What is Medicaid Fraud?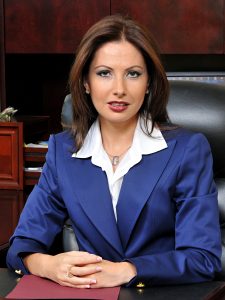 Medicaid fraud is billing for services not provided, performing unnecessary tests, unnecessary referrals, and charging separately for services usually offered at a packaged rate. Anyone who received Medicaid illegally is subject to investigation. If you received a letter from NYC HRA stating that your eligibility for medical health insurance is under review, you may actually be investigated for Medicaid fraud.
Get prompt, professional help from the highest rated New York medicaid fraud attorney Inna Fershteyn, Esq. Call (718) 333-2394, and immediately experience the difference in knowledge, service and attention your case will receive. Fees are affordable; you will work with the Principal attorney who has over 20 years of experience; and, you will work with the best rated attorney in NY.

Why is my Medicaid Fraud Case Flagged?
Most Medicaid fraud cases in NYC are flagged because of the recipients' failure to disclose the full household income on your application/recertification(s) or failure to update the agency about your increase in income. Many people who receive Medicaid are investigated for fraud because they didn't disclose:
their real earned income;
the income of people who live with them or whom they have children with; or
their unearned income (rental income, gifts, support, gains from stocks, interests, etc).
If you are investigated for Medicaid fraud, you can face a number of legal consequences including criminal charges, fines, and restitution payments. Your immigration status and your employment can be jeopardized. If you received the HRA investigations letter, call a medicaid fraud attorney at the Law Office of Inna Fershteyn right away before speaking with investigators. We may be able to obtain an administrative resolution for the case before it is referred to the District Attorney's office.
Medicaid Fraud Investigation FAQ
What if I received a call from the District Attorney's Office?
Criminal Proceedings for Medicaid Fraud
Lately we have seen an increasing number of clients who are facing criminal charges as a result of their Medicaid Fraud Investigation. Some case were held in the DA's office for years and some were just transferred to the District Attorney's Office from HRA Bureau of Fraud Investigations.
If your Medicaid Fraud Investigation ended up with criminal charges against you, you will be arrested and held in jail until you see the Judge, which may take twenty-four hours or longer. Criminal charges against you may include felony, grand larceny, possession of stolen property and others depending on the severity of the offense. We have seen the criminal complaints including the following charges:
P.L. 155.35 (1) – Grand Larceny of the 3rd Degree (D Felony)
P.L. 165.50 – Criminal Possession of Stolen Property in the 3rd Degree (D Felony)
P.L. 158.15 – Welfare Fraud in the 3rd Degree (D Felony)
P.L. 175.35 (1) – Offering a False Instrument for Filing in the 1st Degree (E Felony)
P.L. 155.25 – Petit Larceny (A Misdemeanor)
P.L. 165.40 – CPSP 5th Degree (A Misdemeanor)
P.L. 175.30 – Offering a False Instrument for Filing in the 2nd Degree (A Misdemeanor)
If you were advised by your investigator that the case will have criminal consequences or you were already contacted by the DA's office, you still have a chance to avoid incarceration and can negotiate with the DA's office to minimize the charges and possible restitution. Hire an experienced Medicaid Fraud Attorney who will contact the DA's office on your behalf and will negotiate the settlement in your favor. Contact our office at 718-333-2394 and we may be able to STOP THE ARREST. We will also explain the legal process to you, discuss potential outcomes and discuss your various options every step of the way.
What is the difference between Medicaid and Family Health Plus?
Medicaid is a program involving federal government and every state individually to provide health insurance to people with low income.
Family Health Plus – is the program for people between the ages 19 and 64 who are not eligible for Medicaid and have no other means to obtain health insurance.
Child Health Plus - is a subsidized program that will provide health coverage for children up to 18 years old.
Why my case is being flagged by HRA?
The most common reasons for any case to become target for Medicaid Fraud Investigation are
Misrepresentation of household income on the Medicaid application
Misrepresentation of family composition
Failure to provide information about any changes in residential address, household income or household members
My application was completed by an enrollment agent and he/she told me it is ok to lie. Am I still liable?
The recipient is always responsible for the information provided on Medicaid or Family Health Plus applications. On the application you signed your name under penalty of perjury and confirmed the all information provided is true. Enrollment agent has no liability for the incorrect information provided on your application.
I received a letter from HRA. What does it mean?
When you receive a letter from HRA, in most cases, it means that there is an open investigation case going on and that investigator believes that you are or, at some point, were not eligible for Medicaid/Family Health Plus insurance.
What should I do after I receive the letter from HRA?
If your letter says that you have a scheduled date to meet with the investigator, do not plan on going there by yourself. In most cases, when investigator is asking you to come in person he or she already collected evidence proving that you are or were not eligible for Medicaid or Family Health Plus. By answering the investigator's questions, you may disclose additional information that can be used against you by investigator.
What are my rights if I am being investigated by HRA?
You have a right for legal representation and can bring an attorney to the initial meeting with investigator, or have a consultation with a qualified Medicaid Fraud attorney prior to such meeting. You have a right not to answer any questions at the meeting with investigator and if there is any potential for criminal prosecution you can, pursuant to 5th Amendment, remain silent.
How investigation is being conducted?
Investigators at HRA have access to many different databases, including DMV, NYS Real Estate, NYS Division of Corporations and many more. Also, investigators can personally visit your neighborhood and speak to your neighbors to verify your residency address or can send request to your employer to find out your actual earned income.
What are the consequences of Medicaid/Family Health Plus investigations?
The consequences may vary depending on the outcome of the investigation. If the case has no criminal allegations, it may end up in full restitution of premiums paid on yours and your family behalf during the time that you were not eligible for the benefits. Additional monetary penalties, including interest may be imposed on you after the investigation is complete.  If the case ends up in civil court the judgement can be against your assets and lien can be placed on your real estate and personal property, including garnishes of your pay check. In the worst case scenario, if criminal charges are brought against you, you can end up with a prison sentence, lose your professional license or be deported if you do not have a valid immigration status.
Will I have an option to settle my case with investigator?
The earlier you will start dealing with this matter the more chances you have to negotiate a settlement. Seek professional help of an experienced Medicaid fraud attorney to gain best results.
Is it better to meet with investigator first and then seek legal help if the meeting did not go well?
No. Any information you provide to investigator, including any documents that they request from you in the letter may be used against you during investigation. Remember that when scheduling an appointment for you, investigator already collected lots of information and built the case against you.
What are the duties of a Medicaid fraud investigator?
Initially investigators begin with review applications for the welfare programs that HRA administers, including public assistance, food stamps, Medicaid and others. Investigator's goal is to determine whether the applicants were eligible for the benefits they applied for.
In cases where criminal charges are being brought, Medicaid fraud investigators will collaborate with District Attorney to collect evidence and work on trial strategy.
What other agencies can conduct Medicaid fraud investigation?
Bureau of Fraud Investigation
Investigation, Revenue and Enforcement Administration (IREA)
Office of Medicaid Provider Fraud and Abuse Investigation
New York State Attorney General's Office
Medicaid Fraud Control Unit
New York State Office of the Welfare Inspector General
Local District Attorney's Offices
Office of Inspector General, U.S. Department of Health and Human Services
Federal Bureau of Investigation
What is the Bureau of Fraud Investigation (BFI)?
The Bureau of Fraud Investigation (BFI) located at 151 W Broadway, New York, NY and deals with investigations on the recipient side, both of individuals and organized groups, who are suspected of committing Medicaid fraud. BFI investigations may result in Administrative Disqualification Hearings, lawsuits to recover money, or referrals to the District Attorney for criminal prosecution.
What is the Investigation, Revenue and Enforcement Administration (IREA)?
The Investigation, Revenue and Enforcement Administration (IREA) located at 250 Church Street, New York, NY. There are three subdivisions of this agency. The three divisions are: the Bureau of Fraud Investigation, the Office of Medicaid Provider Fraud and Abuse Investigation, and the Office of Revenue and Administration.
What is the Office of Medicaid Provider Fraud and Abuse Investigation?
This subdivision of IREA office deals with Medicaid providers and conducts investigations and audits of suspects of fraud, waste, or abuse of government healthcare programs. Their office is also located at 250 Church Street, New York, NY.
What is the Medicaid Fraud Control Unit (MFCU)?
The Medicaid Fraud Control Unit (MFCU) is a large unit which investigates and prosecutes not only Medicaid fraud but also other healthcare crimes in New York State. This unit works within the New York State Attorney General's office. The MFCU also prosecutes cases involving fraudulent billing practices by physicians, pharmacists, and other healthcare providers. Offices of MFCU are located at several regions, including Albany, Buffalo, Long Island, New York City, Rochester, Syracuse, and Westchester-Rockland.
What is an Administrative Disqualification Hearing?
If your case was not qualified as criminal offense, the investigator may refer your case to the Office of Administrative Hearings ("OATH") at the New York State Department of Social Services for an administrative disqualification hearing. During such hearing they will attempt to ban you from receiving benefits for a period of time that will be determined during the hearing.
Recent Case Closed on Dec. 3, 2016
Client with Medicaid Fraud Case was accused of defrauding the US Government out of hundreds of thousands of dollars. When he came to us he was facing not only paying back the money was accused of defrauding, but also huge fines and interest. Even worse, when he came to us, the case was on the brink of having the agency refer this matter to the US Attorney's Office for prosecution in the Southern District of NY. Once Preet Bharara and his team got this referral more legal fees, fines, and jail time were in play, not to mention a permanant conviction as a felon. As a consequence, our first order of business was to put the brakes on the criminal referral, which we were successful in doing despite the fact that the evidence tended to suggest that the agency's allegations were correct. We were also successful in undertaking very difficult negotiations to (1) get the fines waived, (2) get the interest waived, and (3) have our client only pay back a fraction of what he was alleged to have defrauded. Case was Settled for a fraction of the amount due and entire record of the fraud investigation was sealed.
At the Law Office of Inna Fershteyn and Associates, P.C. we provide details on Medicaid Fraud Investigation (as well as Family Health Plus and other Health insurance programs), Arrests & Procedures, and what you should do if you are targeted by the NYC HRA Bureau of Fraud Investigations.