In the midst of one of the deadliest pandemics in modern American history, it is no surprise that many people are scrambling to complete their estate planning in case the unthinkable happens. With most attorneys' offices closed due to government mandates, however, the traditional form of estate planning is seeing some necessary improvisation to make sure that people are still able to receive the legal services they need. In this article we've answered some common questions about estate planning during this pandemic so that you and your family can be prepared.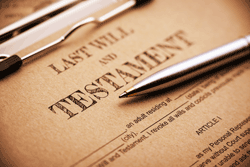 What Documents Should I Have Prepared During COVID-19?
While COVID-19 may be causing many people to get their estate planning done urgently (and for good reason), the process remains the same. A proper estate plan should include a will, revocable trust, living will, healthcare power of attorney, and HIPAA release. For an in depth overview of each specific document, take a look at our most recent article here.
The CDC Recommend Social Distancing, Can I Get My Estate Planning Done Remotely?
Due to the COVID-19 outbreak, all legal documents can now be virtually executed and signatures can be notarized via video conference with your estate or elder law attorney. In fact, as an emergency measure to help clients in need of legal services, we're keeping our office virtually open to assist clients with drafting wills, powers of attorney, healthcare proxies, trusts and a variety of other essential estate planning documents.
A Family Member Has Contracted the Virus, What Is the Most Essential Document Should I Have?
If you find yourself in the situation where a family member has contracted COVID-19, having a healthcare power of attorney in place will ensure that you have a trusted individual by your side who will be able to make medical decisions on your behalf if you are unable to communicate them yourself.
It is no secret that we're living in a time of unprecedented uncertainty and fear. That being said, there is no better time to be prepared than before the situation arises that requires preparation. If you or a loved one are looking to get your estate planning done, we highly recommend that you consult with an attorney who will guide you through the process. We're open virtually from 8 AM - 8 PM, if you're in need of emergency legal services, reach out to us here.