Virtual Wills, Health Care Proxies & HIPPA Release Forms During Coronavirus in New York City
Virtual  Notarization is now permitted In New York Due to the Coronavirus pandemic.
Coronavirus WIll execution in attorney's office with minor child
After virtual elder care and asset protection planning with young parents of a minor child Law Office of Inna Fershteyn prepared 2 sets of Wills, Living Wills, Healthcare Proxies and Power of Attorney.
Coronavirus Will execution took place behind the glass doors with 2 witnesses present in our Elder Care office on Sheepsheadbay Brooklyn.
Now, more than ever, is a critical time to make sure all of your estate planning and personal health care documents are prepared and notarized by an authorized, experienced NY Estate planning and elder law attorney.
Coronavirus Preparedness Measures Should Be Taken At This Time – Work With Attorney Inna Fershteyn Remotely.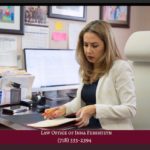 Important Legal Notice: Due to the Corona Virus outbreak in NY, all legal documents can now be virtually executed and your signature notarized via video conference with an elder care lawyer. Hire the Law Office of Inna Fershteyn, P.C. to help you with:
Virtual Wills
Urgent Health care proxies
HIPPA release forms
When you call you will work directly with the Principal attorney Inna Fershteyn who, with over 200 5 Star Google Reviews, and multiple awards 10/10 ratings on Justia and AVVO, has been recognized as the highest rated estate planning lawyer online in the NY Area.
Coronavirus: These Are The 5 Documents You Should Have In Your Estate Plan Right Now
Will/Revocable Trust
Most people draft wills which explain how they'd want their assets to be handled at death, which works well for small and modest estates. However, because wills must go through the process, which often takes several weeks to many months to complete, some prefer to use a revocable trust which allows their assets to completely bypass the process.
Living Will
Simply put, a living will help you control your medical at the end of your life. In addition to providing instructions for your end-of-life care, a living will outline exactly the medical procedures that you approve of when it comes to trying to preserve your life. With a living will you're able to control what happens to you in the event that you're unable to voice your preferences.
With countless hospitals reporting a drastic shortage of ventilators, making sure that your living will address whether or not you wish to be put on a ventilator during the end stages of your life is more important than ever.
Healthcare Durable Power of Attorney
If the tragedy happens during an outbreak and you're stricken with an illness, having a healthcare power of attorney in place will ensure that a trusted individual of your choice will have the ability to make medical decisions on your behalf. If you're currently receiving care, we highly recommend that you check with your doctor to see if they can suggest any criteria when it comes to picking a healthcare power of attorney. A licensed attorney can also help you properly draft your documents to ensure a smooth transition if you're no longer able to make medical decisions for yourself.
HIPAA Release
A HIPAA Release is a legal document in which you name a person to communicate with your medical providers on your behalf and handle your private health information. Just as you would have a healthcare power of attorney in your estate plan, during the uncertain time of the coronavirus outbreak, it is definitely worthwhile to have a HIPAA Release handy as well.
Estate planning is never fun, but having your documents in place to ensure that you are well taken care of and your assets are properly distributed if the worst comes to fruition is priceless. If you or a loved one are looking to draft all your necessary documents during this time of uncertainty, we highly recommend that you consult with a licensed estate attorney who will guide you through the rough waters of estate planning.
Because so many people here and abroad are passing away from severe cases of Coronavirus, it's no wonder why people are springing to estate attorneys to either update their wills or even do their estate planning for the first time.
Even with ample time, estate planning can still be an incredibly complex problem, there's a reason why estate planning professionals across the Country are recommending that your estate plan contain certain crucial documents.
Original Coronavirus Estate Planning article posted here:
Important Legal Notice (continued) : Due to the Corona Virus outbreak in NY, all legal documents can now be virtually executed and your signature notarized via video conference with an elder care lawyer.
As emergency measures to assist clients with drafting wills, power of attorney, healthcare proxies, pooled income trusts and obtaining home care aid under urgent Medicaid home care application package, we are available from 8 am to 8 pm and can prepare any emergency asset protection and elder care documents within 24 hours.
If you need to contact us urgently, please call us at 718-333-2394
Get Answers To Your COVID-19 Estate Planning Questions Online Right Now — Learn More >>> Client 5 star review of Elder Care Lawyer Coronavirus Will execution in Brooklyn