Serving New York, NY: Brooklyn, Bronx, Queens, Staten Island & Manhattan
Elder law is an area of the law that helps people who are planning to retire, people with disabilities, people who may need medicaid services or people who are worried about Nursing home costs. New York Elder law attorneys are specialists in the needs of seniors and elders with regard to estate planing, asset protection, medicaid planning and family law in the State of NY. As our loved ones age and become seniors, we have many questions around finances, assets, estates, health care and long term care, to name a few.  Our  attorneys understand the unique needs of this particular group and can address concerns such as:
You are concerned with what will happen to your assets and the best way to carry out your estate planning
You are looking to prepare a will or set up a trust, or another estate planning instrument
You are concerned with the current long term care plan for yourself  (or lack thereof) or your elders and how care will paid for
You want to know more about who would take care of you if you are no longer able to do so yourself in the future
You want to make sure that your wishes are carried out if you become incapacitated, disabled or unable to care for yourself
You would like to know more about the long term care options available to you as an elderly person
Call (718) 333-2394 to set up a consultation or contact us online.
How New York Elder Law Lawyer Inna Fershteyn, Esq. Will Help
As the firm with the highest elder law attorney ratings in NY, we have a 20 year track record of providing personalized attention to those in need. If you have loved ones, family and friends who are entering the senior years of their lives, The Law Office of Inna Fershteyn will help you:
Advise your elders about comprehensive Financial Planning to avoid paying for Nursing Home stay
Create a Pooled Income Trust to allow your elderly to qualify for Medicaid while still having an income
Provide comprehensive Nursing Home Medicaid Planning to avoid Nursing Home bills
Prepare an estate plan, including Revocable and Irrevocable trusts and protect your assets
Prepare Medicaid Home Care Aid application
Establish Guardianships of disabled adults
Long Term Care Fair Hearings In New York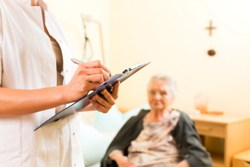 Our office represents clients at Fair Hearings pursuant to Section 22 of NY Social Services Law when our clients have been enrolled in a  Managed Long Term Care Program and have been receiving care and services, including Personal Care Services, through a Medicaid Managed Long Term Care Health Plan operated by GuildNet or other Manager long Term Care Providers.
What is the Cost of Long Term Care?
Long-term care is very expensive and living in a nursing home facility in New York can cost as much as $14,000 a month.  Home Health Aides can also be costly and charge about $20 per hour of care. Assisted living facilities can have fees up to $5,000 per month. In order to minimize these long term living costs, it is important to set up proper estate and financial planning. Our elder care attorney fees are extremely reasonable in relation to how much money we are typically able to save Clients who plan with us.
What Is a Pooled Income Trust?
A Pooled Income Trust is a special type of trust that allows people of any age to become financially eligible for public assistance benefits, such as Medicaid home care, while preserving their monthly income in trust for living expenses and supplemental needs. Although American citizens who are over the age of 65 qualify for Medicare, this insurance will not pay for long-term care or home health care. That means that if you are disabled you will have to pay for your care out of your savings. It is possible to get insurance to pay for long term care, however, if you have your long term planning done by a knowledgeable estate attorney who will qualify you for Medicaid benefits, an insurance program designed to provide health care for the disabled and people over 65.
Medicaid is the only program which can provide long-term health insurance for nursing home or home care. To find out more about your Medicaid eligibility, schedule a consultation with a qualified elder care lawyer at Law Office of Inna Fershteyn and Associates. P.C. Call (718) 333-2394.

WHO CAN BENEFIT FROM A POOLED INCOME TRUST?
Younger people with special needs
Recipients of personal injury settlements who need to apply for, or protect, government benefits
Elderly persons who have become unwell and are living at home
Recipients of government benefit programs
Applicants for government benefit programs
How Can I Protect My Assets From Nursing Home Bills? 
Your loved ones can become increasingly frail or forgetful and you may need to think about Nursing Home access.
Paying for a Nursing Home can be extremely expensive and it is very important that you consult experienced attorneys at Law Office of Inna Fershteyn and Associates, P.C. who can provide essential estate planning guidance to help protect your assets from expensive nursing home costs.
Placing your assets into an Irrevocable Trust will protect them from Nursing Home bills, if such a transfer was made five years or more from the time one gets into the nursing home.
Elder law lawyers provide clients with timely professional Medicaid planning and discusses eligibility for nursing home law. Set up your consultation today! Call (718) 333-2394.
ELDER LAW TESTIMONIALS

Our Office Has More Reviews Than Any Other Firm & 20 Years Of Experience Working With Clients Like You. Call (718) 333-2394 Today!
"Inna Fershteyn is exactly who you want to have on your side. She has a thorough knowledge of the Elder Law, impeccable reputation and reliability, and empathy and kindness to her clients." – Irina L.
"If you need an estate plan, elder planning, Medicaid planning, or any type of family estate asset protection, give Inna a call. You'll be glad you did!" – Michael P.
---
5 Essential Estate Planning Documents

How Can I Protect My Assets from Nursing Claim Costs?