International pandemics are serious business. Seeing in the news that so many people here and abroad are passing away from severe cases of the Coronavirus, it's no wonder why people are springing to estate attorneys to either update their wills or even do their estate planning for the first time. Being that even with ample time, estate planning can still be an incredible complex problem, there's a reason why estate planning professionals across the country are recommending that your estate plan contain the following crucial documents.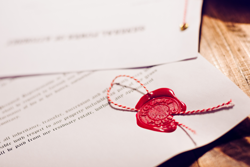 Will/Revocable Trust
Most people draft wills which explain how they'd want their assets to be handled at death, which works well for small and modest estates. However, because wills must go through the process, which often takes several weeks to many months to complete, some prefer to use a revocable trust which allows their assets to completely bypass the process.
Living Will
Simply put, a living will help you control your medical at the end of your life. In addition to providing instructions for your end-of-life care, a living will outline exactly the medical procedures that you approve of when it comes to trying to preserve your life. With a living will you're able to control what happens to you in the event that you're unable to voice your preferences.
With countless hospitals reporting a drastic shortage of ventilators, making sure that your living will address whether or not you wish to be put on a ventilator during the end stages of your life is more important than ever.
Healthcare Durable Power of Attorney
If the tragedy happens during an outbreak and you're stricken with an illness, having a healthcare power of attorney in place will ensure that a trusted individual of your choice will have the ability to make medical decisions on your behalf. If you're currently receiving care, we highly recommend that you check with your doctor to see if they can suggest any criteria when it comes to picking a healthcare power of attorney. A licensed attorney can also help you properly draft your documents to ensure a smooth transition if you're no longer able to make medical decisions for yourself.
HIPAA Release
A HIPAA Release is a legal document in which you name a person to communicate with your medical providers on your behalf and handle your private health information. Just as you would have a healthcare power of attorney in your estate plan, during the uncertain time of the coronavirus outbreak, it is definitely worthwhile to have a HIPAA Release handy as well.
Estate planning is never fun, but having your documents in place to ensure that you are well taken care of and your assets are properly distributed if the worst comes to fruition is priceless. If you or a loved one are looking to draft all your necessary documents during this time of uncertainty, we highly recommend that you consult with a licensed estate attorney who will guide you through the rough waters of estate planning.