The Law Office of Inna Fershteyn has 23 years experience writing wills for New York clients. Inna Fershteyn, Esq will draft and help execute your will with two witnesses present in a timely and efficient manner. Most importantly, she will go to extreme lengths to address your emotional needs and concerns. No one wants to think about death and writing your will may invite unwanted feelings of discomfort. Inna will answer all of your questions with compassion, while presenting the facts and constructing a comprehensive estate plan that fits your situation best.
Dying without a will in NY:
Your assets may not be allocated to the individuals or charities you had in mind.Many states follow the order of: spouse, children, grandchildren, parents, and siblings–respectively in that order. Although this is the common order of inheritance by the court, the court is not familiar with your family dynamics and relationships.

Distribution of assets will not be distributed as you please.You may want to leave your children unequal sums of money due to strained relationships that may have occurred during your lifetime. However, without a will, your estate is usually split evenly between your children if your spouse has passed as well. With a will, you have the chance to split your assets unevenly between beneficiaries. 

Guardianship of children may go to someone who is not an appropriate candidate. If you have children who are minors when you pass, they may inherit guardians who are unfitting candidates for the role. Oftentimes, family members will volunteer to become guardians for your children, but this cannot be fully guaranteed. 

Different marital statuses can have various outcomes. If you are a single New York resident, your estate will first be given to your children, but if there are no living children in the picture, your assets will be transferred to any living parent you may have. Otherwise, they will be split between your siblings. If all of these family members are deceased, your assets will be split between remaining family members from both sides of your parents' family. If you are a married New York resident, the surviving spouse inherits your entire estate. If there is no surviving spouse, your children inherit the estate. 
By writing a Last Will and Testament in NY, you will:
Avoid possible arguments between family members in deciding who will inherit your assets

Avoid monstrous probate fees for your loved ones 

Avoid a

probate process

that can take several months

Have control over who you appoint as will executors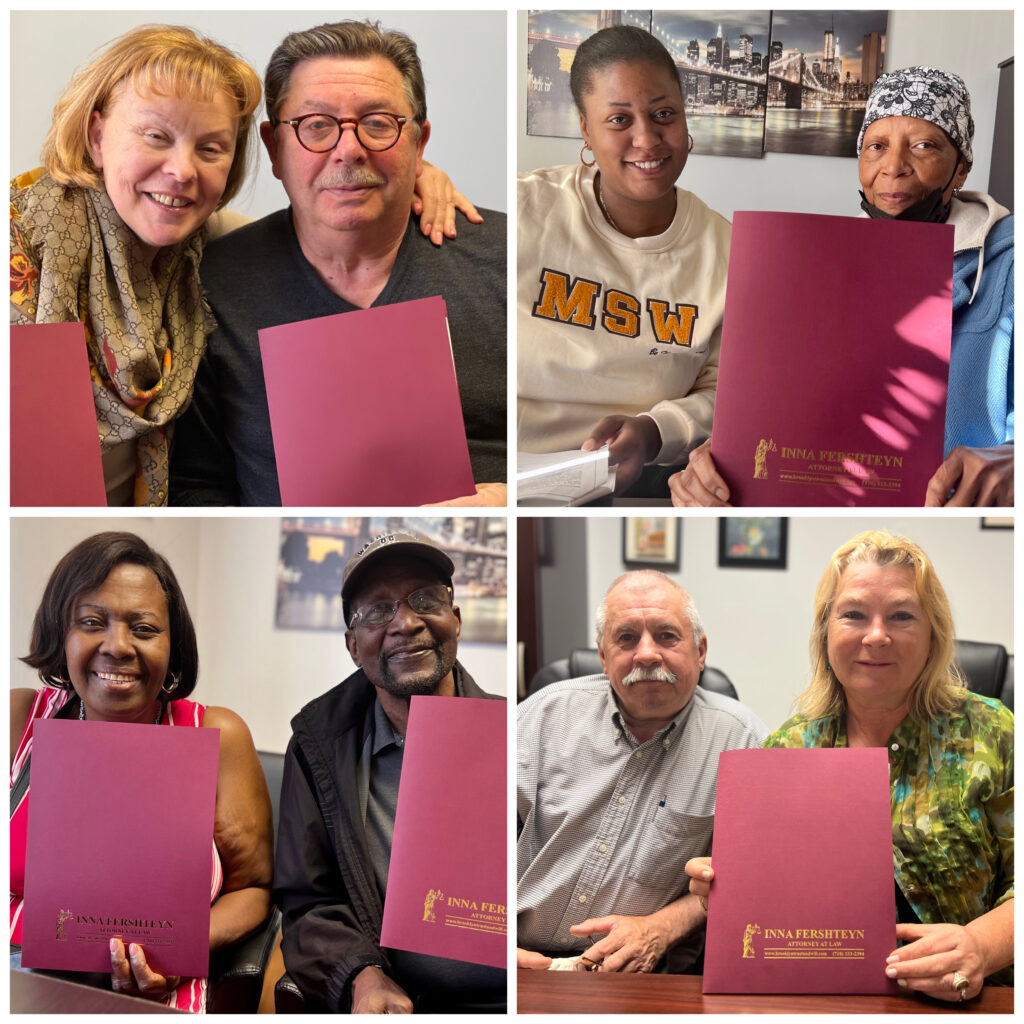 What Happens if You Die Without a Will in the state of New York?
If we haven't made it clear enough yet, dying without a will in New York is the worst way to approach estate planning. By writing a will, you ensure that your estate, no matter how small, will be inherited by the rightful beneficiaries. You want to have control over which of your loved ones inherits the assets you worked so hard for. You also want to prevent any messy future disputes between family members. Since you have already decided who will inherit which assets before passing, you guarantee that everyone will receive exactly what you intended for them to have. Additionally, you guarantee control over who you appoint as a will executor. This way, you have the opportunity to pick a trusted and responsible individual to carry out the wishes you set forth in your will. Assets that can be passed down to your beneficiaries include investments, cars, houses, charity donations, and bank accounts.
Believe it or not, many people still die without a will. Anything can happen: a loved one who thought he had many more years to live before writing a will, unexpectedly dies of a heart attack, a will is written incorrectly, or a will is even lost. This problem even more so applies to recent events. At the height of the 2020 pandemic, the Law Office of Inna Fershteyn saw an astronomical increase in clients who scurried to write their will. Unfortunately, loved ones were dying left and right in the hospital without a written will. 
Questions to Consider When Appointing a Will Executor 
Is this a trustworthy individual?

Is this individual responsible?

Is this individual good with finances?

Does this individual have the time to execute your will?

Is this individual mentally stable?
Dying Intestate Without a Will in New York 
If an individual dies without a will, New York state deems this person to "have died intestate." The local probate court then decides who will inherit the assets left behind. It is important to note that every state's estate laws are different. Here are some possible outcomes determining which beneficiaries an individual's assets may be allocated to:
| | |
| --- | --- |
| Dying without a will in New York | Who inherits under EPTL |
| Only spouse left | Inherits the entire probate estate |
| A spouse and children are left | Spouse inherits the first $50,000 and the remaining balance is divided in half between the spouse and children |
| Only children are left and no spouse  | Children inherit all assets |
| Parents with no living spouse or children are left | Parents inherit all assets |
| Siblings are left with no living spouse, children, or parents | Siblings inherit all assets |
| Grandchildren are left with no living children, parents, spouse, or siblings | Grandchildren inherit the entire probate estate |
| Child 2 is left, but child 1 passed away before leaving behind children | Child 1's children split the first half of the balance equally and the remaining 50% is inherited by Child 2 |
These lines of inheritance also apply to the rules of administration. In general, those closest to the deceased individual file for probate at a Surrogate court located closest to the individual's former place of residence.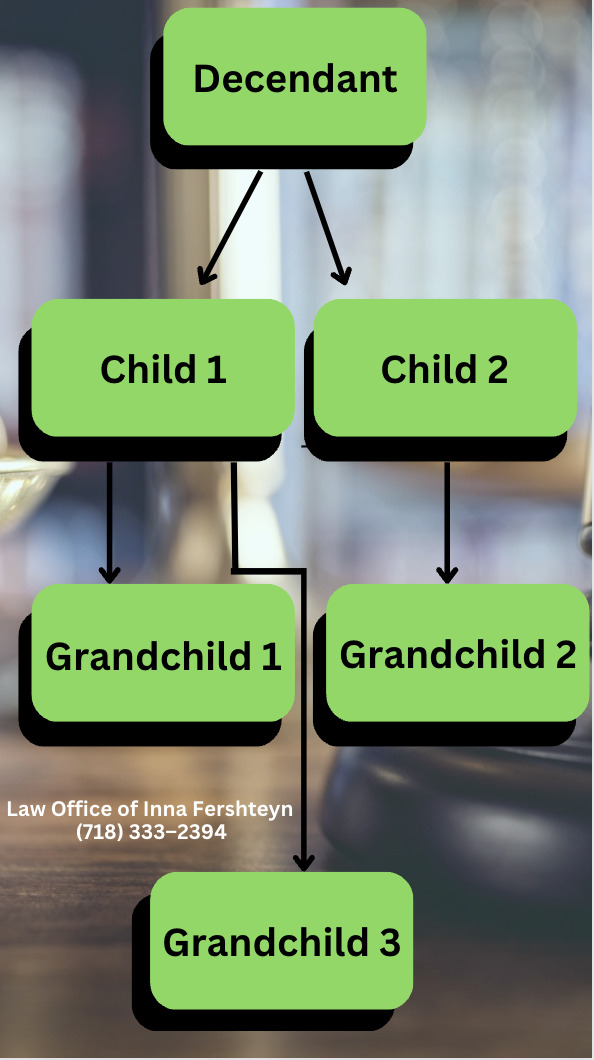 NY Surrogate's Court Administration Cases
July 6, 2023
A client lived in a co-op apartment with her brother who passed away. Her brother unfortunately passed away without a written will that voiced his wishes to transfer his 50% share of the apartment. To obtain full ownership of the apartment, we helped the client access a certificate of right to survivorship and file for will administration. We listened to the client's needs and addressed them immediately knowing that nowadays, the will administration process may take several months.
May 27, 2023
A family came to the Law Office of Inna Fershteyn during an extremely difficult time. A mother and father lived with their adult son in a co–op apartment when he committed suicide. The son had sole ownership of the apartment, but passed away without a written will. To transfer ownership of the apartment to his surviving parents, we helped them file letters of administration. Additionally, their son processed a large sum of money in his bank account, but did not name any beneficiaries. Despite having a son, we could not name him as a beneficiary because he was not a U.S. citizen. Therefore, we helped name his parents the appropriate beneficiaries on the account and let them preside over the account. During this process, we sympathized with the family's grief and addressed the situation in a timely manner. 
April 17, 2021
A female LGBTQ+ couple originally from Brazil was never legally married and had a son via a surrogate. As a doctor, the child's biological mother reported to work during the height of the pandemic and after having an extreme case of COVID–19, died without a written will appointing a legal guardian. The one year old's surrogate donor, and in this case father, flew in from Brazil to claim custody of the child and raise him in Brazil. Here, the legal battle began: while the biological mother's partner raised the child as her own, she technically did not have any blood or legal relation to him. Both parties of this legal battle held Brazilian passports. However, the child was born in New York and his mother died in New York, so the case must be settled in a New York court. The Law Office of Inna Fershteyn has done everything in its power to represent the biological mother's partner. However, due to the multiple complexities, the case is still ongoing and the result is inconclusive. 
July 10, 2020
During the COVID-19 pandemic, a client who was dying from cancer in the hospital asked the Law Office of Inna Fershteyn to create a will for him during his last days. The process usually takes a week and the pandemic presented mailing obstacles, significantly slowing the usual process. However, the attorney expedited the process and created a will in three days. The client passed away a few days later with the peace of mind that his assets were successfully taken care of and ready for his loved one's to inherit.
Law Office of Inna Fershteyn and Associates, P.C.
Average rating:
0 reviews