While much of the global conversation regarding the COVID-19 pandemic has revolved around how to slow its spread, it's important to be prepared for the possibility of serious illness that can ultimately result in incapacitation or even death. That being said, this pandemic provides an opportunity to raise the difficult yet crucial conversation topic of advance care planning, advance directives and specifically, having a healthcare proxy in place.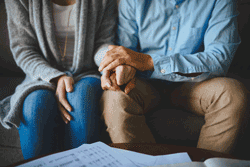 What Is A Health Care Proxy?
Advance directives are legal documents that allow you to specify your care preferences as well as appoint a "health cary proxy" in case you become incapacitated. What a health care proxy, also known as a durable medical power of attorney, allows you to do is designate a trusted individual to make medical decisions on your behalf if you become unable to make and/or voice them yourself.
Why Should I Create One Now?
According to a survey by the Conversation Project, a campaign launched to promote conversation about end-of-life matters, while close to 92% of people agree that talking with their loved ones about end-of-life care is important, only about 32% have actually done so. That being so, it's a fact that when decisions are made ahead of time, they can dramatically improve the quality of a person's life. While it may seem uncomfortable to bring up the serious subject of end-of-life planning with your family, it's reasonable to say that in the current climate, no scenario should be left off the table. Just a few weeks ago, the United States overtook every other country on the planet in terms of coronavirus infections and deaths. Recent projections and press releases have announced major shortages of personal protective equipment as well as ventilators and other vital hardware that's used to treat and save the lives of hundreds of thousands of COVID-19 patients. No one expects to end up with a diagnosis of a potentially terminal illness or disease, and with over 80% of COVID-19 deaths having been among people 65 and older, it has never been more important to have a healthcare proxy in place.
While having such conversations might seem a bit morbid or akin to fear-mongering, at a time like this it certainly is not. It's always important to have clear advance directives in place to ensure that you're taken care of in the worst case scenario. If you or a loved one don't have your advance directives in place, we highly recommend that you seek out a licensed estate attorney who can help you make sure that you have documents in place that will keep you protected and taken care of in case the worst comes to fruition.