Serving NYC, Brooklyn, Bronx, Queens, Staten Island & Manhattan
What A Will & Trust Can Do For Your Future: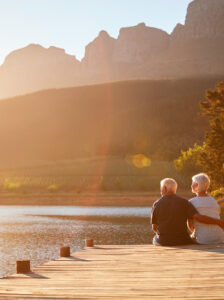 Wills and trusts are important estate planning tools you should consider. An experienced will & trust attorney can help advise you on setting up the proper plan, and they can help you with the following legal matters:
File to admit a Will or Codicil for probate with the Probate Court in NYC
Assist relatives of a decedent who did not leave a Will (intestate)
File petitions in Surrogate's Court to appoint an administrator or fiduciary of the estate
Call (718) 333-2394 or contact us online to set up a consultation with an experienced estate planning attorney in NY.
Will signing with attorney and 2 witnesses
What Is The Difference Between A Will And A Trust?
A common myth is that a Will is enough to pass your estate to heirs. However, a Will alone is not enough as it takes at least one year in New York to validate or "probate" it in court, and until the court actually gives its permission by issuing "Letters Testamentary", no one can touch even a dime from your estate. A Will is practically useless if your estate has significant value, or if you have real estate in different States, or if you have minor children or children from different marriages.
You need a Trust to pass your estate to your children without a challenge and court proceedings. A Will always has to go through probate. A Trust never goes through probate. A Trust allows your loved ones to get direct access to your estate immediately after you pass away.
Call (718) 333-2394 to set up a consultation or contact us online with the best trust attorney in Brooklyn.
What Is A Will?

A Will is a legal document that not only dictates how your estate will be allocated after your death, but also allows you to appoint guardians for minors. In the case that one dies without having a Will in place, the state laws will coordinate how one's assets will be distributed. According to LexisNexis, it is estimated that a shocking 65 percent of American adults die intestate, without a Will or other estate plan in place! This often leads to unpleasant results which could leave your heirs and beneficiaries disappointed.
By drafting a Will in advance, you could consolidate and dictate your wishes in regards with how you want your estate to be allocated. The process doesn't end with drafting of a Will, but continues even after one's death. In order for your Will to be executed, it will have to go through and be approved by the Surrogate's Court of the County where the deceased person resided. This lengthy and meticulous probate process could potentially take eighteen months or even more of your beneficiaries' time.
What Is A Trust And Why Do You Need It If You Have A Will?
In essence, a Trust is a legal arrangement that allows for a trustee to hold assets on behalf of ones heirs and beneficiaries. There are different types of Trusts, which dictate specifically how the assets will be passed down to the beneficiaries. The benefit of a Trust is that it usually allows for the beneficiaries to gain access to assets significantly faster than with a will and without the extra costs of probate.
A Revocable Living Trust that was arranged during the lifetime of its Donor allows beneficiary to avoid the lengthy and costly process of probate. In addition to bypassing probate, Irrevocable Trusts allow you to exclude parts of your assets from your taxable estate, something that a Will cannot offer.
In addition, while Wills tend to split up your estate evenly among your heirs, a trust allows you the flexibility needed to disproportionately distribute your assets based off of each individual beneficiary's needs.
---
RECENT CASE CLOSED
July 10, 2020
During the COVID–19 pandemic, a client who was dying from cancer in the hospital, asked the Law Office of Inna Fershteyn to create a will for him during his last days. The process usually takes a week and the pandemic presented mailing obstacles significantly slowing the usual process. However, the attorney expedited the process and created a will in three days. The client passed away a few days later knowing his assets were successfully taken care of for his loved ones to inherit.
December 13, 2019
One client was living in an assisted living facility and had gone into critical condition (without having an estate plan) and was unable to make decisions nor express them. He was still the owner of several bank accounts and had his name on a property deed.
We met with the client and decided that the best way forward was to set up an irrevocable trust (so as to not effect his Medicaid eligibility) and transfer the property as well as his bank accounts into the trust. Luckily, his daughter had Power of Attorney and was able to make and carry out these decisions for him.
November 4, 2016
Client was already in the assisted living facility and failed to do any estate planning for their large estate. The estate included real estate in the states of Brooklyn, Pennsylvania and Florida, annuities and large bank accounts. All together the estate value was over $5M.
We met with client in the assisted living facility, prepared the family trust and transferred all assets into such trust. Our goals were to avoid costly and timely probate, to protect our client's assets and to ensure that medical directive and power of attorney are available to the relatives of our client so they can take over if our client becomes incapacitated.
The whole process took only one month.
---
The Law Office of Inna Fershteyn is comprised of a group of experienced,
leading trust and estate attorneys that can help with your will and trust.
---
Estate Planning: What is a Living Trust and How Can You Benefit From It?
WILLS AND TRUSTS TESTIMONIALS
Recent Reviews on Google
Law Office of Inna Fershteyn and Associates, P.C.
Inna was really a pro. First she made you feel at ease with entire process and spoke to my family very frankly and openly giving them episodes from her experience how something could go wrong so they had a good idea what type of trust they need to set up. Second, she was very organized and delivered all trust and wills documents to us within 2 weeks as promised.  Third, she answered all her emails within minutes which was really reassuring that she was on top of things and considered my family a priority. I am sure this is how she treats all her clients as we saw people in her reception area every time we came."
5/5 Stars
"Inna is an amazing medicaid and elder law planning attorney. She cares deeply about each and every client and she is very down to earth and "normal". She doesn't think she is better than everyone else and she makes you feel at ease and not afraid to ask questions. She has the most diverse clientele from every walk of life and very different backgrounds – she represents multi millionaires with multiple properties and regular people with few dollars in their pockets with equal passion and demeanor and never lets regular person feel unimportant. Her down to earth demeanor and positive attitude make coming to her office a very positive experience. I can honestly say that every client who came through her office will use her in the future. I know I did, as it's my second review in 3 years. I recommend her highly and can only say – go have a consultation with her and you will know why she has so many great reviews."
5 / 5 stars
"My family was able to set up their wills and a trust. Inna made the whole process feel easy and straight forward! The service was also very personable – we were treated with respect and felt very comfortable. I've recommended Inna to my friends as well and have heard nothing but positive feedback. Thank you!" – Tamara H.
5 / 5 stars
"My medical practice has worked with Inna for over 10 years. Over that time she has helped us grow and expand the practice, helping with everything from employee handbooks to the wills and trusts needed for retirement… Inna Fershteyn is a very professional attorney and I look forward to working with her for many years to come." – David A.
5 / 5 stars
---
For more information about Trusts and Wills in New York, you can visit our Blog or Articles page.
You may also contact the Law Office of Inna Fershteyn at (718) 333-2394 and
schedule an individual Trust and Estate consultation.
---