Estate Planning and Will Packages for New York City Clients
Last Will and Testament and Elder Law Package NYC
Our Law office prepares comprehensive estate plans for our clients. Serving clients in the state of New York and New Jersey, attorney Inna Fershteyn has created a Last Will and Testament  Package and Elder Law Package that includes all the essential documents to transfer your assets to your loved ones and to protect your assets from creditors.
Last Will and Testament Package - $1,800
Initial Consultation with Attorney ($300) and completion of a Comprehensive Estate Plan

: During the estate planning session, which we offer in-person or via Zoom, you will meet with attorney Inna Fershteyn and discuss the contents of your estate plan, your current assets, and discuss which people you would like to appoint as the beneficiaries and executors of your last will and testament. The initial consultation with NY Top Elder Law attorney Inna Fershteyn with over 22 years of experience is a great opportunity for you to ask any questions you may have regarding your Asset Protection plan.

After your initial consultation, the attorney will begin drafting your:
Last Will and Testament:

a legal document used to express your last wishes. It dictates how your estate will be allocated after death.

NY Durable Power of Attorney:

This gives an individual the ability to make decisions in the case you become incapacitated and cannot handle matters yourself.

NY Healthcare Proxy and Living Will:

This legal document allows you to appoint a trustee to make decisions about your healthcare if you become unable to do so and lays out your expressed wishes for medical care in the case you become incapacitated. 
3. After the attorney drafts your documents, which is about 1-2 weeks after your initial consultation, you will come back to our office to execute your documents. In order to execute your last will and testament, you must do so in the presence of an attorney who will notarize the will and two witnesses that are provided by our office. Along with the will, we will execute your Power of Attorney and Healthcare Proxy documents. You will pay the remaining $1,500.
NY Power of Attorney and NY Healthcare Proxy Package ($300):
Our office also offers a:
NY Health Care Proxy and NY Power of Attorney Bundle:

If you're only interested in creating health care proxy and power of attorney documents, we can draft these documents and execute them with you in the office in the presence of a NYS Notary Public.

Estate Planning Session ($300):

If you're not sure which estate planning documents to include in your estate plan, a consultation with attorney Inna Fershteyn, who has over 22 years of experience is a great way to receive expert guidance on what documents are best for you. It's important to note that the fee for your estate planning session will be credited towards the cost of any documents you choose to draft.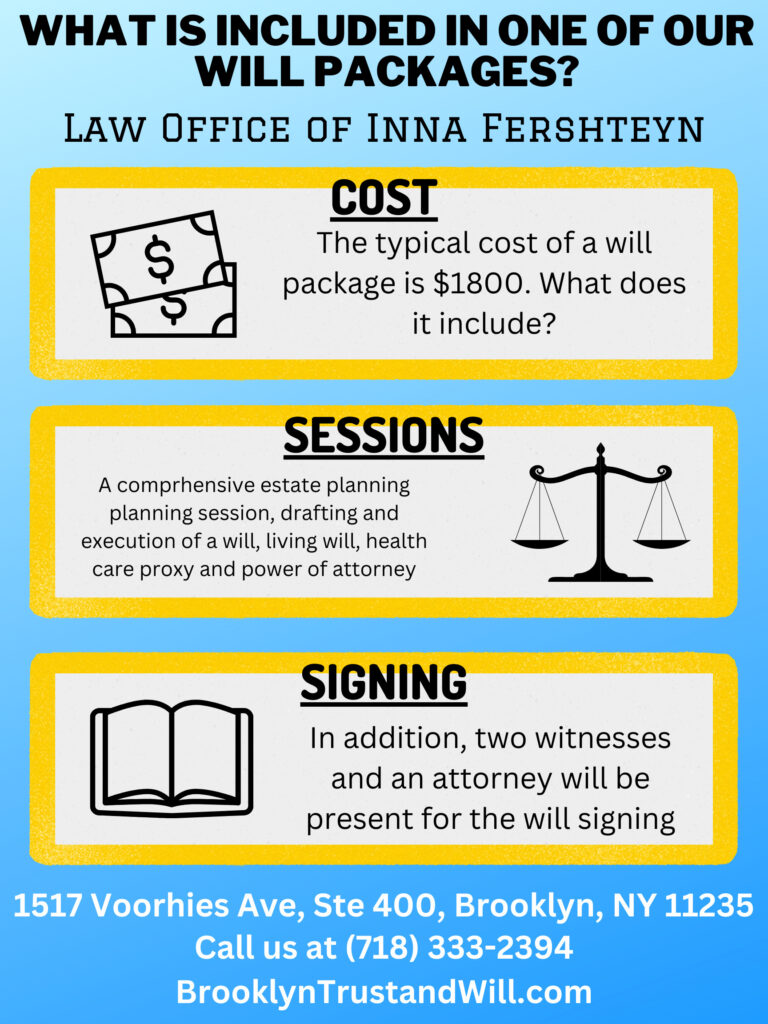 Call Our Office Today
For over 22 years and throughout this pandemic, NY top Elder Law attorney Inna Fershteyn has worked with clients in all situations to devise an estate plan that is best for you. If you have any additional questions or would like to schedule an appointment at the Law Office of Inna Ferstheyn, please call (718) 333-2394.