The holidays are a few times of the year when the entire family gets together. Your family members are gathered to celebrate so they are more relaxed and not as distracted by everyday obligations. It's a great time to catch up, make new memories, and even discuss some important matters like estate planning as the family is heavily involved. While it may seem like a taboo topic for a fireside chat or too heavy for a dinner discussion, estate planning is critically important and the holidays can present the perfect time to get things in motion.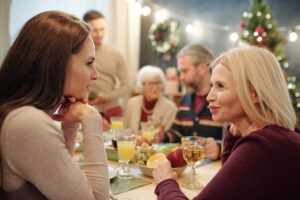 There are three main concerns that parents (or their children) need to address: wills, trusts, and advanced directives. These concerns may not be the best dinner topics, so it may be best to set a time before or after, or even on a different day so long as everyone is still in town. To help coordinate, it is usually a good idea to notify everyone, in advance of them making travel plans, that a discussion or meeting is going to happen on a particular day and time.
Wills
Though not the best dinner discussion topic, an important topic to discuss with family is the ever-important, sometimes contentious, estate plan. One of the most common parts of an estate plan is the will. Most people in the family will want to be included or have some knowledge of what is stated. Parents generally leave their estates to their spouses, children, and grandchildren, however, it isn't uncommon for individuals to want to make charitable contributions as well as leave certain items to non-family members. While big items, like a house or car, may cause some discord, it is important to discuss these matters ahead of time (no better time than the holidays) so that when the time comes, there is no confusion or contentions. And though it may seem morbid, having this discussion can inform a parent as to what are the important and sentimental items that are explicitly wanted.
Meeting with an estate planning attorney before having the big family meeting is another good idea just so you can have a better sense of your estate's size. Also, since these issues are all matters of state law, a local attorney can advise you about how the estate planning process works, help you finalize your documents after the big talk, and even give you some talking points to discuss with your family if you're nervous. 
Trusts
A revocable living trust provides a fast and private way to transfer property to your beneficiaries after your death, without involving the court. With a revocable trust, you determine who will get your property and assets when you die, and you manage this trust until you are no longer able to do so. If you become incapacitated or die, your named successor trustee takes over. These trusts can be altered or revoked while you're still living to reflect changes in assets and relationships. It's important for your family to know who you have entrusted as a trustee and who will be the beneficiary. It's also important for family members to know what's in your estate and trust, especially if it's something like the family house. 
Advance Care Directives 
An advanced directive is a legal document that advises doctors about certain medical decisions a person wishes to be made if they become incapacitated and can't make the decisions. Typically, these involve requests to either remove, or not remove, life support, or not to resuscitate, if a person becomes incapacitated, comatose, brain dead, or is suffering from some other condition rendering them unfit. These directives can be difficult documents to discuss with family members, especially if a parent is adamant about not being resuscitated if the worst happens. This discussion may be hard, but hopefully, when everyone is together, everyone can feel comfortable and talk openly about their emotions and their decisions.
An alternative to the advanced directive is a durable power of attorney or health care proxy. This document allows for an individual to appoint somebody else, usually a spouse or adult child, as the person responsible for making health care decisions (and potentially other decisions) if they are incapacitated.
Those are the three main documents that make up a comprehensive estate plan and should be discussed amongst family members. We offer these tips to help ease the discussion with your family:
1.) Bring Up Celebrity Examples
Sometimes families can be reluctant to talk about these sensitive subjects, so ease into the conversation. Begin a conversation by bringing up examples of celebrity estate planning. For example, the "Purple Rain" singer, Prince, passed away back in 2016 without a will leaving a Minnesota judge to decide how to split a $300 million estate among six siblings. By having this discussion, you may be able to get a step closer to doing what Prince failed to do. If you're feeling nervous, just think of all the celebrities with complicated families, like the Kardashian-Jenners, and how sensitive conversations go with them. Encourage your loved ones to be as open as they can. Better to voice opinions now than upon someone's passing when there isn't much joy around.  It's ok to joke about his situation and turn an uncomfortable situation into something entertaining and productive.
2.) Prepare Your Paperwork
Once you have discussed, figured out, and confirmed who will be handling the key roles related to your estate, get the documents drafted in order to officially put your final wishes into place. Consult with an estate planning attorney and the documents you need will be drafted and executed in no time. Don't forget to include an Advance Healthcare Directive or Healthcare Proxy, which states who you wish to appoint to make medical decisions in the case you become incapacitated. In addition, having copies for everyone will ensure that there is no room for misinterpretation about your wishes. Keep in mind that a copy can be used for reference, but an original must be presented for the document to be valid. Everyone has to be on the same page, and that is your page.
3.) Respect Boundaries and Answer Questions
Once you find an opportunity to have a discussion about estate planning, make sure to set some ground rules. Keep the discussion as transparent as you can by having every member of the family address their thoughts, questions, or wishes and discuss them openly. Some good topics to address include:
Who will act as the executor of your will and/or trustee of your trust?

Who will serve as your agent under your financial power of attorney?

Who will serve as your healthcare proxy?

And how to handle medical or long-term care situations if necessary.
4.) Remember it's an Ongoing Conversation
Although an estate plan feels final, a lot can change by the time it will be put into action which will be upon your passing. It is important for family members to understand that, as circumstances change, you may update your decisions along the way. And for you, don't feel pressured to plan out every single detail or make finite decisions in the initial conversation. It is a good idea to set the expectation for your family members that things will change. Explain how you will have to take things like new acquisitions, marriages, divorces, and newborns into consideration over time.
5.) Establish the location of the Documents
Creating an estate plan is a great first step, however, it is useless if your family doesn't know where to find it. If estate documents are never located, then the trustee or executor can't access them in order to have them validated and put them into effect. There is no point in hiding the will or trust so well that no one will ever be able to find it. You can consider putting the documents in a safe deposit box or a safe space in your home, so everyone knows where it is located. However keep in mind that without a beneficiary designation for your safety deposit box, it will stall the process of your family members gaining access to your estate planning documents when the time comes.
6.) Have the Discussion Before the Celebration Begins
Families like to celebrate the holidays with champagne or spiked eggnog. Though useful for lightening the mood, it is important that everyone has a clear mind and can fully understand your wishes when you have this conversation. Alcohol can make family members emotional and make this discussion more dramatic than it needs to be. Just ask the family to take a seat and have a conversation before popping the bottles open.
If you have more questions about estate planning pertaining to you or a family member, consult with an experienced estate planning lawyer for legal assistance. Contact the Law Office of Inna Fershteyn at (718)-333-2394.