Divorce can be a complicated legal procedure, but an important aspect to consider before and after the divorce is your estate plan. Whether before or after a divorce, it's understandable that you're tired of sifting through legal documents. However, if you do not take action now to review and revise your estate plan in light of your divorce, you could end up facing undesirable estate planning results. Therefore, you should at least consider gathering your old estate planning documents and evaluating what you might need to update. Read ahead to learn more about a few of the most commonly used estate planning documents that you should consider updating in the event of a divorce.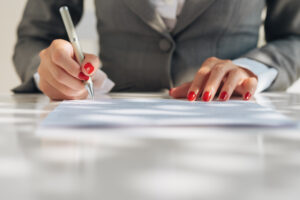 Create a New Will 
Wills are the central document in most estate plans. Your will is a legal document dictating your wishes upon your death and will go through probate where a court will validate and authenticate your will. When faced with a major life event, like divorce, it may be crucial to review your will to see if there are changes you need to make. Once a will has been executed (aka signed and notarized) it can not be amended so if you need to make any changes, a new one must be created. This is why it's a good idea to make sure that you create a new will that is adequately updated in light of your divorce. You will likely want to create a will that will no longer pass on your assets to your former spouse. In addition, make sure to also revoke your old will. 
Guardianship 
A guardianship clause is an estate planning tool that allows you to appoint an individual to take custody and watch over your minor children in the event of your death. If you have children below the age of 18, you should use the new will to appoint a guardian, who will watch over your children. However, you should keep in mind that any decisions regarding the care of your children stated in divorce or settlement arrangements will control your decisions.
Living Trusts
Revocable living trusts are a type of legal arrangement that addresses who will inherit your assets at the time that you pass away. Assets placed in a trust often bypass probate, a legal process that your estate goes through upon your death which can be costly and time-consuming. The good news about revocable trusts is that they are amendable and you can consult with an attorney on the proper changes you can and should make. Alternatively, you can also revoke or dissolve your trust in which case it's highly recommended that you create a new trust in place of the first one. 
Beneficiary Designations
When you are going through your will and/or trust, remember to also examine the beneficiary designations. The beneficiary/beneficiaries are the people you listed to inherit some or all of your assets. Make sure to examine the beneficiary designations on any items that you own that pass directly to inheritors. Some common types of documents that utilize beneficiary designations include wills, trusts, life insurance policies, bank accounts, investment accounts, and retirement plans. If you want to remove your former spouse as a beneficiary and appoint someone else, doing so often requires completing a new beneficiary assignment which an estate planning attorney can help you with.
Power of Attorney and Advance Directives
Power of attorney documents are used to designate someone who is authorized to act on another's behalf. These documents are critical estate planning tools that allow a person to plan for possible incapacitation. Financial power of attorney documents grant the authority to address your financial matters, while a medical power of attorney (health care proxy) grants someone the authority to handle your health care matters. In the event that you are incapacitated and you need someone to take care of your medical and financial directives, the person or people you appoint as your agent in these documents will do so. If the person you name is a former spouse, you might want to reevaluate this appointment. You can revoke the power of attorney and healthcare proxy by signing and notarizing a new form and be sure to inform your old agent. When you revoke the old healthcare proxy, you should make sure to create a new one and inform healthcare providers about this update and provide copies of the new directive to both healthcare agents and providers.
Contact a Knowledgeable Estate Planning Lawyer
It's important to revise your estate plan after a life event, like a divorce. Figuring out how to update your estate plan so that your wishes will be fulfilled can be challenging. One of the best things that you can do in such a situation is to obtain the assistance of an experienced and knowledgeable estate planning attorney. Contact the Law Office of Inna Fershten today at (718) 333-2394.