How to discuss estate planning with your loved ones this holiday season?
With the holiday season coming around and the gathering of family members you probably have not seen in quite some time, it is the perfect time to discuss estate planning for the future. The holidays are a great time to think about the events of the coming year ahead, especially as the New Year approaches. While closing the door to the old year, we open the door to a new year filled with opportunities and plans for the future. One such plan should absolutely pertain to establishing an estate plan to protect your assets in the coming year. Although it can be difficult to bring up such a topic when all you want to do is catch up with family members on how their time has been and what the children have accomplished, it truly is a must. Once you have commented on how greatly all of the children grew and how wonderful everyone looks, it is a great time to find a quiet place and begin the discussion of estate planning with your loved ones in order to best prepare for the coming new year. There are four main steps to approaching this discussion in order to ensure that your loved ones are prepared for any possible event in their future.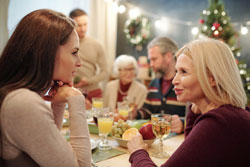 Step 1:Find a positive way to approach the financial aspects associated with Estate Planning.
Typically, when we are extremely passionate and concerned about a certain topic, we tend to jump straight into the problem. A much better method would entail approaching the situation in a caring general matter. Rather than bringing up the topic of death to your loved ones during one of the few occasions you get to spend time with them, you should begin with a general statement. In other words, you should ask them if they have any plans for the future in terms of the financial aspects of maintaining their way of life. Be sure to mention that you are only asking because you want the very best for their health and overall well-being. You should try your best to be understanding in the case that your loved ones do not feel prepared to discuss their finances with you. However, if they do feel comfortable to partake in the discussion, you should have a ground plan of what exactly you want to discuss with them.
Step 2: Establish a Ground Plan of Exactly what you want to Discuss.
Once you have obtained your loved one's consent to engage in the financial conversation of planning their estate, it is time to give a direct plan of what you want to go over. Be sure to select only the most important issues to ensure that they do not feel overwhelmed and do not start feeling stressed or unhappy. You should be sure to mention the importance of drafting a will and trust. In the case that your loved ones are unaware of the meaning behind these documents the best way to explain it would be to define their purposes. The will pertains to including your loved one's best interest and wishes in terms of how they wish to be cared for and how they would prefer their assets to be distributed upon their passing. The trust is a document that protects your assets and provides monetary benefits to the beneficiaries your loved one selects. Once you have presented these two documents you should introduce the concept of a durable power of attorney. This document is extremely important in the case that the loved one becomes incapacitated and needs someone to make decisions on their behalf in terms of their health and financial assets. A letter of intent is the next document of importance, as it directly describes how your loved one would prefer certain financial aspects handled once they have passed. Lastly, the healthcare power of attorney document should be discussed in the case that your loved one would like to begin considering who they would select for this position. The person they choose should be someone they trust to make medical decisions on their behalf. This is the basic checklist of the documents that pertain to beginning the estate planning journey. 
Step 3: Discuss Plans of Actions- Hiring an Attorney
Now that you have completed your agenda and discussed all of the important documents, ask your loved ones if they have a particular lawyer in mind. If they do not, this is the time to do research in order to ensure that the selected lawyer will best fit the needs and interests of your loved one. It is important to consider the attorney's experience in the field and to take a look at the comments clients have left on their webpage. Once you have found a lawyer you think is a good fit in terms of experience and personality, it is the perfect time to either call the attorney's office or to leave an email. Then, you will be able to identify if the lawyer is the right match for your situation in regards to the expected cost the attorney presents upon the first meeting. Taking action is usually the most difficult aspect, as the individual claims to want to take action and agree with all of the important points you made concerning their future. However, when it is time to take action, individuals like to procrastinate and state that it is not an imminent issue, as nobody is dying anytime soon. This procrastination must be avoided in order to produce the best outcome possible in regards to your loved one's future.
Step 4: Explain the Importance of Not Procrastinating when it comes to Estate Planning
The reality of the matter is that everyone passes at some point in time and it is better to be prepared then to have to deal with estate planning on top of the grief from the loss of a loved one. In the case that your loved ones fails to complete all of the elder care documents prior to their passing or their incapacitation, the state will be the one responsible for making all of the decisions. This certainly is something that should be avoided, as the court is very unlikely to take your loved one's wishes into consideration. This means that your loved one's interests will not be met and their assets will not be distributed in a manner that they approve of. Rather than risking such an occurrence taking place, it is just a much better decision to take action and begin your estate planning journey. Not procrastinating on creating a will could make all the difference, so take the opportunity today to reach out to an attorney and make the first steps on the path that leads to a secure and joyful future in the coming new year.
If you or a loved one need estate planning help this holiday season, please contact the Law Office of Inna Fershteyn at 718-333-2394 to set up an estate planning consultation that will prepare for your future.