The prospect of aging can be quite a stressful experience, as it is time to consider plans for your future. Granted the likelihood of aging, an individual should begin considering legal guidance in support of the actions associated with retirement and potential Long -Term Care. It is certainly better to be prepared for the future, then to wait till the last moment and rush to make plans. One's future should not be an aspect of procrastination, as it is imperative that the aging individual's needs and wishes are met in a timely manner. This implies the necessary actions on behalf of an Elder Care Attorney in terms of protecting financial assets, planning for Nursing Home Care, settling Medicaid eligibility issues, and more. The Elder Care Attorney will be responsible for drafting a will, creating a trust, selecting a healthcare proxy, and creating a power of attorney in order to best prepare you and your loved ones for the coming of old age. Despite the fact that you or a loved one may not need assistance with Long- Term Care currently, it is always a good idea to get ahead of the game and file all of the important documents early. With proper guidance and assistance this legal procedure will settle any potential concerns you may have for your future.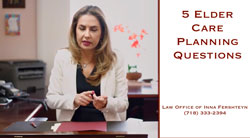 Should I hire an Elder Law Attorney?
Yes, it is highly recommended that you hire an Elder Care Attorney because doing so would assist in all Medicaid and Long Term Care concerns. The attorney will not only prepare you and your loved ones legally in terms of completing all of the required documents, but financially and mentally as well. The attorney can analyze your personal financial situation and support you in making the best decisions for care that meet your financial options. This assistance and guidance is absolutely worth it when it comes to protecting your assets, as well as selecting the best care options available.
2. How much does an Elder Care Attorney cost in NYC?
The cost range for an Elder Care Attorney varies based upon the attorney's extent of experience and knowledge on the foundational subject matter. The typical cost of the will package is $1,000 which includes a comprehensive estate planning session, drafting and executing of the will, living will creation, healthcare proxy documentation, and power of attorney documentation with the presence of two witnesses and an attorney. The average cost for a Living Trust typically costs between $5,000 to $6,000 per couple.
3. What is Elder Law in NYC?
Eler Law pertains to the field of law that focuses on the legal, financial, and emotional aspects associated with aging. Elder Law Attorneys write wills, trusts, healthcare proxy, power of attorney, living will documents and even more. They guarantee to protect your financial assets in the aspect of Medicaid Planning when it comes to Long-Term Care. The lawyer will be sure to maintain your best interest in ensuring that the will depicts your wishes.
4. What questions should I ask my Elder Care Attorney?
When searching for an Elder Care Attorney that will be a strong fit for your needs, you should ask the attorney various questions to decide if the attorney is the one for you. First, you should ask how many years of experience the attorney has in handing Elder Care cases. Then, you should ask about the attorney's plan of action associated with the certain aspects you would like legal advice with. You should ask the cost of service and be sure to make your attorney aware of any personal concerns prior to beginning the Elder Care journey. It is important to convey your interests and inquiries in the very beginning to ensure that the attorney you select will be able to suit all of your needs and assist you in the most effective manner possible.
5. Can an Elder Care Attorney protect my family from Nursing Home Issues?
Absolutely, an Elder Care Attorney will protect your assets from the costs of living in a nursing home by cautiously reviewing your Medicaid eligibility. The attorney will assist you in creating irrevocable trusts and creating a life Estate to ensure that you do not lose your home or your financial assets to the overbearing costs of Nursing Home care. It is certainly worth seeking guidance from an Elder Care Attorney, as they have much experience in the field and have had many previous cases involving Nursing Homes and Medicaid.
For further Elder Care inquiries please contact the Law Office of Inna Fershteyn at 718-333-2394 to best prepare for your future in selecting an attorney that works best for your needs.