"Daniel's Husband," an emotional and dramatic play, examines the fragility of human relationships and whether marriage is an optimal option for all couples. The opening scene introduces the two men, Daniel and Mitchell, who are genuinely in love yet are not legally married. The well-dressed couple is a very charismatic and charming duo, yet they face a sore spot when the topic of marriage comes up. Daniel is very fond about the idea of marriage and regularly pleads with his partner Mitchell to go to City Hall and get married. However, Mitchell refuses because he views the institution of marriage as outdated and not necessary. After Daniel's mother pays a visit to the couple, she causes Daniel to fall into a painful state and ultimately suffers from a significant brain failure.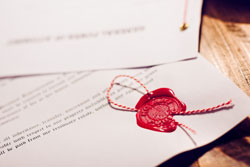 This emotional play not only presents the unexpected tragedies of life but also emphasizes the importance of signing paperwork for your partner's health care. Unfortunately, Daniel becomes paralyzed and is not able to make any decisions in a conscious state; therefore, a problematic battle for custody begins between Daniel's mother and partner Mitchell. Although Daniel's mother tries to convince Mitchell that she has the proper resources to take care of Daniel, Mitchell refuses and claims that Daniel "hates" his mother and would be extremely dissatisfied living in Chicago with her.
Lack Of An Estate Plan Results In An Unfavorable Court Decision
Since the group had come to no official consensus, a trial date was set. Mitchell presents the forms that would claim Daniel and Mitchell as each other's health care surrogates, but they have not been notarized and therefore are not viable. Mitchell's resistance to marriage ends up having detrimental effects. Daniel's mother, Lydia, eagerly uses the couple's lack of a marriage certificate to her advantage during the trial. The judge rules in favor of his mother because she is his legal guardian and Daniel is taken from his apartment that he has called home for the past ten years to his childhood home where he lived through his parents' painful divorce. The tragic turn of events forces both men to now face the consequences of their opposing views.
Why Do I Need A Power of Attorney/Living Will?
Signing a Power of Attorney is important because it is a document that states a person you name can act on your behalf regarding medical and financial reasons. In this case, if Daniel had delegated Mitchell as his healthcare agent, he would have authority over his medical decisions, and Daniel would have been able to stay under Mitchell's care. Additionally, a living will is a document that states your medical care wishes if you become incapable of communicating your preferences. When deciding whom to delegate as your health care agent, it is essential to consider that the person has your best interests in mind and is fully competent to make decisions.
Hire A Professional
A lesson to take away from this tear-filled tragedy is that you should never postpone the signing of legal documents, especially those that can have such a transformative effect on the rest of your life. If you or a loved one are looking to draft your estate plan or even just add complementary documents that would avoid the situation that we've seen in this play, make sure to consult with a licensed NY estate attorney who will guide you through the process and make sure that you and your family are fully set for your later days.