Generally speaking, most people prefer to stay in the comfort of their homes for as long as possible. However, as the generations age, many people are faced with the decision of whether or not they will place their aging loved ones in a nursing home. A nursing home is the best option when your parent's quality of life and health are impaired and they require more care than can be provided at home. A quality nursing home not only ensures your mother or father a safe, comfortable environment but it provides the opportunity to socialize with peers and have help close at hand. Picking a high-quality nursing home is often a complicated process but knowing what to look for will assist you in making the right decision.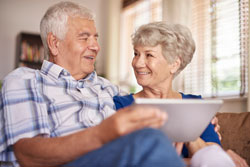 It is essential to give yourself enough time to research nursing homes that will best match the needs of your loved ones and family for long-term care. If your loved one is still capable of making personal decisions, you should take into account their opinions and act accordingly. Choosing the right nursing home can be an emotional experience because opinions may vary significantly between family members, but ultimately, several key points should be considered before the final decision is made.
Location and Size
When considering nursing homes, location is one of the most critical factors. If you are searching for a home for a loved one, you should be able to visit your family members frequently, and therefore, make sure that the facility is at an easily reachable distance. Similarly, if you are the one needing care, you will want to be close to your family members.  Size is also an important factor because it should be tailored to the individual's personality and activity levels.  If an individual is more introverted, he or she may request a more intimate environment. However, if someone is more social and outgoing, they may need more space for activities and events.
Services
While most nursing homes offer long-term care, they tend to differ in health-care services. That being the case, it is paramount to know exactly what is provided by the homes you are considering. For example, some services are specifically tailored to the individual while others are generally essential. Oftentimes, having specific rehabilitation floors is necessary so that the residents can attain full, proper care. Another important factor to consider is the meal options offered by various nursing homes. Being that many people have specific dietary needs, especially in their later days, it is highly recommended to visit the nursing home to see what is being offered to find your ideal match.
Recreational activities are also important to consider when looking at assisted living facilities. If your loved one is living at the nursing home, you want to ensure they are occupied during their free time.  Many nursing homes have specific cooking classes or talent shows to entertain the residents, so it is essential to consider whether your loved one will be content with the entertainment and social atmosphere available at the facility.
Staff
The staff members of the nursing should also be a significant deciding factor because they will ultimately be the ones ensuring your loved one's safety and well-being. A confident, well-rounded staff will make your loved ones feel at home and will help to make the transition into the home as seamless as possible. You should make sure that the staff are skilled nursing care and are capable of maintaining a polite, warm relationship with all the residents; after all, they will be the ones assisting your loved ones in their daily lives.
Choosing the right nursing home is no easy task. The right nursing home should be a place that matches a resident's medical, dietary, and social needs as closely as possible. One thing is for sure, and that is that it is important to consider numerous options and consult directly with your loved ones to make sure that their new home will be the perfect fit.