As we grow older, we do not necessarily want to think about the end that is drawing near. As a result, we often choose to delay estate planning because it is a sign to us that our time here on earth is coming to an end. Aside from it being important to have a proper estate plan in place to properly divide your assets upon your passing, it is also crucial to consider "micro-estate planning," which can help protect your children immediately if something tragic ever happens to you.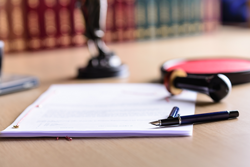 What Is Traditional Estate Planning?
Traditional estate planning consists of creating a will and complementing it will with related documents including various types of trusts, durable financial and medical powers of attorney, among many others. Additionally, proper estate planning requires you to take a look and review your identified beneficiaries, create asset and debt lists, think about consolidating IRAs and bank accounts and make your heirs knowledgeable of some causes or charities that have significant meaning to you. Traditional estate planning is beneficial for reasons including lowering taxes, eliminating probate fees, providing for heirs, and having peace of mind and security while you are still alive. When you wish to plan for the long-term, traditional estate planning is the way to go.
What Is a Micro Estate Plan and How Can It Help Me?
We often do not consider the importance of the short-term after our passing. Imagine you and your spouse have a weekend getaway planned and your children are left in the care of a trusted friend. Now, you are driving back and something tragic happens where you both do not make it back safely. In a sudden misfortune like this, the question now is: who will be left to take care of your children? Perhaps you want your children under the care of your sibling who lives a few hours or even a plane ride away. Your children need to be cared for immediately and this is where a micro-estate plan comes into place and can help better prepare you for such unforeseen circumstances. A micro estate plan is a separate legal document with precise, clear-cut instructions about who should be called first and who should take the children for the time being before legal guardianship is transferred and well-established.
Now consider the benefits of having this extra piece of paper as part of your traditional estate plan. Looking back at our scenario, having a micro-estate plan will identify who the trusted friend should get in contact with immediately. Now, the police show up at your doorstep and they need to determine where these children are going. With a micro-estate plan in place, this document can be shown to the police as proof of where the children are meant to go rather than being put in foster care. This person will have temporary custody of the children until guardianship can be transferred in an official court proceeding. Without a micro-estate plan, it is likely that the police officer will have to place the children in custody of the state. After such a traumatic event, this is the last thing you would want for your children.
Protect Your Children Immediately Upon Your Passing
Furthermore, the single most important benefit of micro-estate planning is that it protects your children. Even if instructions for your children are left in a will, there may be a process needed in order to establish that the listed guardian is fit to take care of the children. Additionally, instructions left in a will may not account for an unexpected fatal event in which a parent is deceased or immobilized. This is where a micro-estate plan is helpful because it avoids the process as it has straightforward instructions in place meant for unforeseen situations and is intended for the short-term. Having a micro-estate plan also helps children cope with emotional trauma in the immediate aftermath of losing a parent. Imagine being a child and having to deal with the anxiety of being thrown into foster care directly after losing a parent. Many of these children are still in shock, and no child should have to fear being forced into the system.
Don't Wait – Hire a Professional
A micro estate plan document should be kept in a safe place that is easily accessible such as a file cabinet or displayed on the front of a refrigerator. It is crucial to get access to this document easily and quickly because of its sudden and immediate use. If you or a loved one are looking to draft an estate plan, consult a licensed estate attorney in New York who can explain help you draft your micro-estate plan so your children are always protected in case the unthinkable ever comes to fruition.