Accidents happen when we are least expecting them. Natural disasters in particular can catch us off guard, as they are often unexpected and unpredictable. Whether you encounter a hurricane, tornado, earthquake, wildfire, or flood, one should be prepared in the case of an emergency. There are various precautions that you can have in place in the event that a disaster occurs which will help you prevent losing everything you own.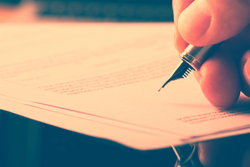 Natural Disasters Strike Anytime
Hurricanes are a type of natural disaster that occur quite commonly. With winds as strong as 74 miles per hour, hurricanes can completely wipe out beachside homes. Another side effect of hurricanes is flooding, given that hurricanes carry water through strong winds. Having an overflow of water in your home should be treated just as a flood would. An important action to take is to evacuate to a safe shelter right away. When evacuating, it is also best to take everything important along with you, as anything can be destroyed during a hurricane. If your home is located in a range where hurricanes can occur, keep an eye out for any warnings about possible storms. You can sign up for warning systems in your community. You can also find emergency alerts at the Emergency Alert System (EAS) and the National Oceanic Atmospheric Administration (NOAA) radios. If you have time to prepare, have a safe shelter location already in mind and keep your friends and family members updated. In the case that a family member is not at home, you can arrange to meet in a safe location. The best location, aside from a shelter, would be a small, windowless room in a sturdy building that is not subject to flooding. To truly be ready for anything, become familiar with your neighborhood and evacuating locations. You never know what may happen, and it is best to be prepared for any situation.
Documents To Keep On Hand
When it comes to natural disasters, the top priority is to keep you and your loved ones safe. However, you can also lose everything that is of material value and you would have to rebuild your life again. So, what important information or material should you take with you when evacuating? For one, you should take any sort of identification with you. This includes a government ID, drivers license, passport, Social Security number, or any Medicaid card. This will enable you to travel and claim back any assets from your bank account that is linked with your ID. You may also want to take your credit cards and any cash that you have, and have your banking account information. In a natural disaster, money is a key element that can get you shelter, food, water, and anything else you may need. If you are afraid of losing valuable items, you can put your belongings in a safety deposit box in the bank a few days prior.
While it is uncomfortable to think about, it is also important to note that there are many casualties when a disaster occurs. If you are aware that one may be coming soon, having your estate planning documents in order may be useful. Having paperwork done that protects your assets in the case that something happens to you is always necessary, but even more so in situations such as these. You may consider drafting a trust or will, as well as a financial power of attorney and health care proxy documents. A trust or will makes sure that your estate is distributed according to your wishes, while a power of attorney will give an agent of your choosing the right to make financial decisions on your behalf if you are unable to do so. Similarly, a health care proxy gives a person of your choosing the ability to make decisions for your medical care if you become incapacitated. While one should have these documents prepared without the push of a natural disaster, this may still be a moment that can urge you to jumpstart having your affairs in order.
Preparing for a natural disaster is just as important as recovering after the destruction. We recommend meeting with a professional estate planning attorney that will be able to help you plan for such a circumstance, as well as help you with the aftermath.