When Can You Collect A Deceased Spouse's Social Security Retirement Benefits
The social security administration should be notified as promptly as possible when a person passes away. In most cases, the funeral home will report the death, but you can also do this personally by calling the administration, or visiting your local office. If the deceased spouse was receiving monthly benefits, the benefit they received for the months following their death must be returned.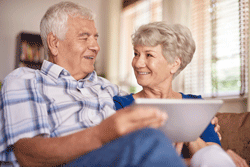 A surviving spouse may receive benefits under the following circumstances:
He/she is age 60 or older
If he/she is disabled, the qualifying age is 50
He/she is currently caring for the deceased's child who is under the age of 16
He/she is caring for the deceased's child who is disabled and receiving benefits
A one-time payment of $255 can be paid to the surviving spouse if he or she was living with the late spouse. If the spouses were living apart, the survivor may still receive Social Security benefits if they were receiving benefits on the deceased's record.
If you are the widow or widower of a person who worked long enough under Social Security, you may be eligible to receive full benefits at retirement age, or reduced benefits as early as age 60. If you are disabled or became disabled before or within seven years of your spouse's death you can begin receiving benefits as early as age 50. The survivor benefit amount is based on the earnings of the deceased person. The more they paid into Social Security, the higher the benefits will be.
If you already receive benefits as a spouse, your benefit will automatically convert to survivors' benefits after the social security administrative receives the report of death. If you are also eligible for retirement benefits, you can apply for retirement benefits, or survivors benefits, and then switch to the other benefit at a later date. If you seek more information on the topic, we highly recommend you seek a qualified elder law attorney NY who can guide you in the right direction regarding your social security benefits.