Going Out on Your Own Terms: Specifying a Method of Death in Estate Planning Documents
Traditionally, the goal of estate planning has been seen as facilitating the transfer of assets from a deceased person to intended heirs upon death. While a written will focuses on the way one's assets should be distributed, additional documents called advanced directives allow individuals to express their wishes about medical treatments in the event they are incapacitated, or deemed incompetent to make these decisions while living. Amid the national debate regarding whether the right to die should be a viable option for individuals making their estate plan, advanced directives may sometimes be used to authorize euthanasia or physician-assisted suicide as requested by the individual at question.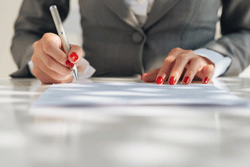 An Introduction to Advanced Directives
The term advanced directive generally refers to two documents typically included in an estate plan: a living will, and a Durable Power of Attorney for Health Care (DPAHC). A living will is the primary document in an estate plan that accounts for its writer's, or the principal's medical care in the event of incapacitation. This document, sometimes called "directive to physicians," is designed to allow the patient to describe, in advance, what kind of medical intervention he deems acceptable when he is not able to verbalize it himself. Though the instructions in the document can certainly be used to indicate that all available treatments are to be administered, they often deal with the patient's decision to not be kept alive by medical technology, should there be no chance of survival. On the other hand, a Durable Power of Attorney for Health Care is a document that names a health care proxy, or an individual that the principal trusts to make the decisions outlined above.
Living Wills and Physician-Assisted Suicide – A State-to-State Comparison          
Being that the "living will" was originally designed by the Euthanasia Society of America, a movement originating in the 1940's which aimed to sway public opinion to the side of having the right to consent or refuse medical treatment in the event of mental impairment, it is reasonable that the topic of euthanasia and physician-assisted suicide constitutes an active discussion not just in politics, but in the establishment of state law. A recent Florida case put the question of legality to the test when a 70-year-old patient, who was previously diagnosed with Chronic Obstructive Pulmonary Disease (COPD) as well as diabetes and atrial fibrillation, was admitted to a hospital, unconscious, with "DO NOT RESUSCITATE," along with a signature tattooed in bold across his chest. The man had arrived with no record of family or friends to verify whether the tattoo was an accurate representation of his wishes, leaving doctors and hospital staff questioning whether the tattoo represented a legal order. Though at first doctors decided to ignore the tattoo, invoking the principle of "not choosing an irreversible path when faced with uncertainty," after the hospital's ethics committee decided that the tattoo expressed "an authentic preference," and a Do Not Resuscitate (DNR) order was found in the patient's state files, doctors were prepared to honor the tattoo. In this case, while the tattoo did not constitute a binding order, partially due to its subjectivity and the uncertainty regarding what prompted the patient to obtain such a tattoo, the legal document uncovered in the patient's file was in fact binding. While most states, including Florida, allow patients to withhold treatment, as requested in a living will, not all states provide the option for willing individuals to request a doctor to aid them in ending their life, through the form of a living will or health care proxy.
Oregon Becomes First State to Legislate Physician-Assisted Suicide, California Follows
Among the handful of states where assisted-suicide is permitted by law, most laws require the patient to: be expected to die within a certain period of time, be a certain age, and follow certain consent guidelines. In 1994, Oregon became the first of five states to legalize physician-assisted suicide with the Death with Dignity Act. After it passed, the law allowed terminally ill, competent patients to receive prescriptions for lethal drugs. This law requires that patients wait fifteen days after making an oral request to a doctor, and then make another oral and written request. Afterwards, patients must wait 48 hours before medications are made available. Similar legislation has since been passed in California where Governor Jerry Brown signed the End of Life Option Act into law, allowing physicians to prescribe lethal drugs to terminally ill patients, as well as Montana, Vermont, and Washington D.C, with all but Montana having waiting procedures in place before patients are prescribed life-ending medicines. In addition, in the case that patients are incapable of voicing a request, their Durable Powers of Attorney for Health Care, named in the living will are authorized to make the requests for them.
Majority of States Stand Firm in Opposition to Physician-Assisted Suicide
Unlike the five states with legal provisions for physician-assisted suicide, thirty-seven U.S states stand firm on the criminality, or illegality of the life-terminating act. In a recent case where three terminally ill patients argued that they should have the right to receive lethal medication, New York's Court of Appeals ruled that the state's ban on assisted-suicide will stand firm, noting that while state law allows for patients to decline life-sustaining medical assistance, it prohibits anyone, including doctors, from ending the patient's life. According to New York state law, the act of intentionally causing or aiding another person to commit suicide is classified as second-degree manslaughter (criminal statute 125.15).
Similar to New York statute, Texas state law stands firmly against the act of physician-assisted suicide. Under the Texas penal code, the act of aiding a person in committing or attempting to commit suicide, with the intent to do so is classified as a Class C misdemeanor, unless the actor's conduct results in suicide, or attempted suicide that results in a serious bodily injury, in which case the offense is considered a state jail felony (Texas Penal Code Sec. 22.08).
Georgia state law is especially intricate when it comes to its intolerance for physician-assisted suicide. Georgia statute states that "Any person with actual knowledge that a person intends to commit suicide who knowingly and willfully assists such person in the commission of such person's suicide shall be guilty of a felony" (Georgia § 16-5-5). Under state law, any person found guilty of this act will be punished anywhere from one to ten years.
Though each state has various laws regarding physician-assisted suicide, including full legalization as well as outright bans on the act, the extent to which the method of death can be specified in a living will is limited. A living will typically offers the person at question to declare and specify whether they want to be kept on life support in case they fall into a vegetative state and are unable to communicate the decision for themselves. It addresses other concerns as well, including whether one wishes to be kept alive with the aid of tube feeding, artificial hydration, and whether or not they wish to receive certain medications in very specific situations.
Specifying a Method of Burial and Funeral Arrangements in an Estate Plan
In addition to a living will, one may also wish to include a Final Wishes document in their estate plan, detailing things they may wish to have done after they die. In the event of death, final wishes may be used to determine the type of funeral, final interment, and other matters including whether one requests a traditional funeral, cremation, or any personal desires such as specific music to accompany the funeral and a possible cost ceiling for the funeral.
In short, though estate planning may be commonly associated with literally "planning your estate," or preparing the accurate distribution of one's assets, an estate plan also has the capacity to specify important decisions you may wish to make in the case that you are not able to make them for yourself when the time comes. While the process of writing a will can be relatively simple, seeking a consultation with a licensed estate planning attorney to make sure all the documents in your estate plan accurately represent your wishes will certainly is certainly recommended, and is guaranteed to help you sleep better at night.