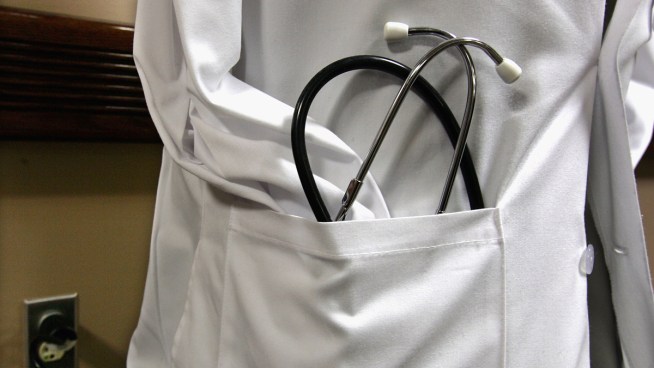 A joint investigation by ProPublica and the I-Team
found hundreds of New York and New Jersey doctors who have billed
Medicare exclusively for the most expensive type of office visit – even
though most of their peers rarely charge the top rate.
Under Medicare billing rules, code
"99215" is only to be used for the most complex office visits, when
health care providers perform detailed patient examinations and make
complicated medical decisions. While a simple office visit might involve
diagnosing the flu or monitoring blood pressure problems, these more
complex appointments require evaluations of multiple organ systems,
complete medical histories or complicated medical diagnostics. Program
rules describe code "99215" appointments as typically lasting 40 minutes
or more.
Among the health care professionals
with such a billing pattern is Dr. Alan Uliss, a Queens ophthalmologist
who billed code "99215" for 100 percent of his Medicare office visits —
more than 1,900 times in 2012. That represents more than 22 percent of
all the most expensive eye doctor appointments charged to Medicare in
the entire state of New York that year.
The average cost of the simplest
Medicare office visit is about $14. An office visit coded as "99215"
costs taxpayers about $100 on average.
According to an analysis by ProPublica,
Medicare paid more than $12 billion for office visits in 2012. Among
those with at least 100 office visits, about 1,800 doctors billed
Medicare for the most expensive code at least 90 percent of the time. In
New York and New Jersey, the I-Team found 485 health providers who
coded all of their returning patients' appointments at the top rate.
Nationwide, the average doctor codes 4 percent of office visits at the top rate.
Uliss, who is a retinal specialist, did not respond
to repeated requests about his Medicare billing. The I-Team also
inquired with the American Society of Retinal Specialists to determine
how the group advises members to code Medicare office visits. No ASRS
representative responded.
The fact that a health care provider
bills for expensive office visits at a higher rate than his or her
peers is not an indication of fraud or abuse. But critics of the
Medicare program say administrators are not doing enough to flag doctors
who have such billing practices.
"I think it absolutely deserved
red-flagging in a situation like this," said James Frogue, a lobbyist
and author who has testified before Congress about health care fraud.
Frogue believes doctors who almost
always bill for the most expensive codes should be routinely
investigated for so-called upcoding, a practice whereby health care
professionals charge taxpayers for services and time they don't provide.
"It's a hard problem to solve
because if patients aren't seeing the bill, and physicians can code for
whatever they want, little upcodes here and there will almost always go
unnoticed," Frogue said.
In 2012, the Health and Human
Services inspector general found health providers across the country
have been steadily increasing their use of the two most expensive
Medicare office visit codes, from 24 percent of the time in 2001 to 41
percent of the time in 2010. The inspector general recommended the
Centers for Medicare and Medicaid Services take efforts to better
educate doctors and review health providers who have unusual billing
patterns.
Medicare said in a statement that
"CMS is working to ensure that physicians and health care providers
appropriately bill for evaluation and management services."
Medicare program administrators
would not comment specifically on the billing patterns of Uliss or any
other physician, saying only, "it's our assessment that it would be
highly unusual for a provider to knowingly use the highest billing code
(CPT 99215) for all or nearly all of his or her outpatient visits."