Receiving a terminal diagnosis is a devastating health outcome for a patient and their loved ones, and while it most certainly will cause dread and despair, it is important to realize that the terminally diagnosed person and their family must take certain steps to ensure that their death will not lead to confusion. Estate planning is an essential step to take for all, and especially people who have received a terminal health diagnosis and might not have long to live. Ensuring that your estate and finances are in order will save your grieving family the additional stress of having to make such arrangements and will give you the peace of mind that your family will be in a good place financially and mentally after your passing. There are many estate planning steps you can take, and it is recommended that you take them long before any terminal diagnosis, but there are several important ones that you must take to ensure that our passing will not leave your family in further grief. Such steps include creating or updating power of attorney and health care proxy documents, creating or updating a last will and testament, signing a do not resuscitate order, making funeral arrangements, and ascertaining the value of each part of your estate, among others. Another important step is enlisting the help of an experienced estate planning attorney who will help you in creating the best possible estate plan and give you the peace of mind that your assets will be distributed according to your wishes after your death.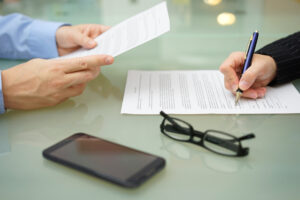 Terminal Diagnosis
The first and most important step after receiving a terminal diagnosis is to be honest with yourself and your family. Once you receive the terminal diagnosis or are told that you only have a certain amount of time left to live, you must tell your family and anyone else that may need to know. Not telling your family and inheritors about a terminal diagnosis will only lead to confusion after your death and the possibility that your estate will have to go through a lengthy probate process or court battle, which can lead to fractured families and broken hearts. Sit down with your family and be frank with them. Let them know what assets you possess, even if you don't want to reveal their value, and tell them who will inherit what so there will be no confusion when the contents of your estate planning documents are revealed. Honesty is most important when dealing with inheritance, and the more your family and inheritors know about your plans for distributing your assets, the less potential for confusion or contestation there will be after your death.
Steps You Can Take
There are several important steps that you must take toward estate planning after receiving a terminal diagnosis in order to make your death as painless as possible for your family:
Create Advanced Health Care Directives, otherwise known as a health care proxy and power of attorney, if you have not already. If you have created these documents before, ensure that they are fully up-to-date and you are comfortable with your choice of representative(s).

Create a do not resuscitate order and display it in a prominent place where emergency services personnel can easily access it.

Create a last will and testament. If you have already created one, ensure that it is up-to-date, includes all known assets, and distributes your assets the way you see fit.

Ensure that all your assets are accounted for and ascertain their value to ensure no confusion.

Collect tax returns and 1099 forms and ensure there are no discrepancies.

Ensure that you identify all your sources of income.

Create and pay for funeral arrangements, including funeral services with a funeral home, burial plots, or cremation services.

If you have any property, health, or life insurance policies, ensure they are easily accessible and that you understand their terms.

If you have a safe deposit box, ensure that your family or inheritors know of its existence and location so that they may retrieve its contents.

Ensure that your family knows the location of all pertinent documents and understands what each document is and how it functions within your estate plan.

Consult with an experienced estate planning attorney to create a comprehensive estate plan that will ensure as little grief as possible for your loved ones as possible.
Conclusion
Receiving a terminal diagnosis is the worst possible outcome for a patient, yet it does not mean that their responsibility to their family is at an end. Creating an estate plan or updating an existing one will ensure that the period of grief for your family will not also entail a prolonged battle or court case involving your assets. Being honest with your family and letting them know what you intend to do with your estate plan is a key step in ensuring there is no confusion over who will get what. Creating an estate plan well in advance of any terminal diagnosis is advisable, yet it is also possible to get one done quickly and painlessly with the services of an experienced estate planning like Inna Fershteyn. To begin your estate planning journey, call the Law Office of Inna Fershteyn at (718) 333-2394 to schedule a consultation.
Law Office of Inna Fershteyn and Associates, P.C.
Average rating:
0 reviews