There is little doubt concerning the fact that Medicaid, a public health coverage program, helps millions of low-income people every day. With affordable or even zero cost aid provided by the taxpayer-funded program, countless elders, pregnant women, children from low-income families, disabled people, and others are able to receive the necessary medication and care they need to live healthy lives. Unfortunately, while the program does grant affordable access to medical care, no government program is without its abusers, and in recent years, the frequency with which cases of Medicaid fraud have fettered their way to top news stories has incited a negative stigma around Medicaid and its recipients.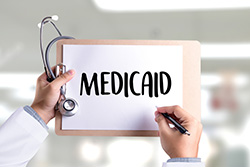 Feds Bust 12 In Big North County Medicaid-Taxi Fraud Scheme
Perhaps one of the biggest Medicaid fraud cases of 2018 can be attributed to a group of medical taxi companies that allegedly ran their business on a model comprised almost solely of fraud. In an investigation involving the Federal Bureau of Investigations, the New York State Inspector General, the New York State Police as well as the Essex County Police Department, officials said the suspects operated nearly 10 medical taxi companies that "serviced" the Adirondacks and the Capital Region, and most notably, collected at least $6 million in fraudulent charges dating back to 2015. After a number of search warrants were executed, prosecutors now believe that as much as ninety-five percent of some of the businesses' total revenue was billed as Medicaid fraud. Additionally, New York State Inspector General Leahy Scott has released a slew of allegations against the suspects which include billing Medicaid for trips that never took place, bribing Medicaid recipient patients with incentives for using their specific transport companies, failing to provide employees of the transport companies with required workers' compensation insurance and filing documents falsely certifying said required coverage in order to provide Medicaid transport services. State and federal law enforcement arrested 12 suspects, including  Khurram Gondal, 37, of Ticonderoga and Waqas Nauman, 36, of Queensbury this week under the charges of creating a sweeping medical fraud conspiracy.
Nurse Charged For Allegedly Stealing More Than Half A Million in Fraud Scheme
Though we typically associate Medicaid fraud with an individual possibly falsifying their financial information on the application, cases of fraud have not historically excluded doctors and nurses who look to supplement their paychecks with a little bit of taxpayer money. A licensed nurse, Keisha Demas, was arrested and arraigned Monday morning for her involvement in a year-long scheme in which she allegedly robbed taxpayers of over half a million during her employment at Interfaith Medical Center, a nonprofit medical organization in Brooklyn, New York. Demas applied for Medicaid in 2014 and again in 2015, claiming she had no income while in reality, she was enjoying a hefty salary of over $100,000 as well as $30,000 of falsely paid claims. In addition, she also alleged failed to file her own personal income taxes with the New York State Department of Taxation and Finance, accumulating a debt of almost $40,000 in unpaid state and federal taxes. Demas' bail was set at $5,000 by Brooklyn Supreme Court Judge William Miller. If convicted, forty-one year old Keisha Demas can face up to fifteen years in prison on account on grand larceny, forgery, falsifying business records and criminal tax fraud, among others.
Operator of Flophouses Pleads Guilty to Medicaid Fraud Scheme
Another recent case takes a more unique approach to the typical Medicaid fraud cases we see acted out by patients or even doctors. Earlier this year sixty-seven year old Yury Baumblit pleaded guilty to Medicaid fraud and illegally evicting tenants from their homes, which law enforcement officials discovered were among a chain of flophouses operated by Baumblit and his wife. In 2015, Baumblit was a part of an investigation into said flophouses, or "three quarter houses," which are unregulated residences in a legal gray area between regulated halfway houses and permanent homes. As a general matter, three quarter houses cater to people who struggle with addiction and mental illness as well as to poor people who can't afford to live in the city. Additionally, the homes were often filled with vermin, mold, dust, and sometimes even the very drug abuse that its residents sought to escape. According to the state attorney general's office, the Baumblits' tenants were often forced to attend outpatient drug treatment services from various providers, including Narco Freedom, the NRI Group and Canarsie Aware, which paid the Baumblits every month for providing clients. On another note, if the tenants refused to go, Mr. Baumblit would try to illegally evict them, oftentimes by removing their mattresses and preventing them from cooking by breaking their stoves. Over half a decade, the Baumblits received over $1.5 million in kickbacks. After pleading guilty to scheming to defraud tenants by illegally evicting them, Mr. Baumblit now faces up to three years in prison, which will run concurrently with his Medicaid fraud sentence, while his wife, Rimma Baumblit, is expected to be sentenced to up to four years for her involvement in the running of the homes.
The unfortunate fact of the matter is that the frequency with which we see cases of Medicaid fraud cases involving patients, doctors, nurses, even business owners is only increasing. Every year, thousands of fraudsters create new ways to milk the Medicaid program of millions of hard-earned taxpayer dollars. That being said, every year thousands of people find themselves subject to an investigation regarding Medicaid fraud. If you or a loved has been subject to such an investigation, it is highly recommended that you consult with a licensed Medicaid fraud attorney who can best help you to resolve your case.