A trust allows a third party, typically known as the trustee to hold assets on behalf of the beneficiary. This trust often does not have to go through probate, which is why so many individuals prefer to embark upon the trust process. Trusts provide you with a sense of control of your wealth by specifying the terms of the trusts according to your own personal preferences. Additionally, trusts allow you to protect your legacy and privacy. As times change, circumstances change regarding one's family life, personal health, and financial status. Thus, individuals may seek to make changes and amendments to their trusts, but this is not always possible. Some trusts may not be changed due to the manner in which they were originally established. However, it may be possible to modify the terms of the trust and create changes by adding an amendment to the document.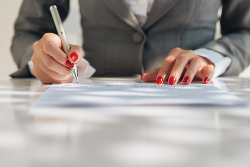 What is the difference between a trust and a will?
Individuals who select to complete a trust rather than a will have a specific agenda in mind regarding their personal circumstances. This decision is made on behalf of the fact that most people do not wish to spend a long period of time filing the probate proceedings associated with creating a will.  Upon filing a will with the court, a probate examiner will be assigned and a court hearing will be scheduled in at least 6 weeks if there are no issues. However, this lengthy waiting period can be delayed even further due to safety precautions established due to Covid-19. At the initial hearing, a judge will decide if an Order for Probate should be granted based on the information present. If any piece of information is missing, or if the judge requests more information, then the case will be reviewed at a later date. The notoriously long process of filing a will can be avoided in its entirety by drafting a trust with the help of an experienced Estate Attorney. An estate planning attorney can ensure that all of your wishes are fulfilled, which is important in regards to the current times. 
Can all trusts be changed?
No, not all trusts may be changed due to the manner in which the trust was established regarding revocable or irrevocable status. Revocable trusts are often referred to as living trusts because they are created during the life of the grantor and the primary beneficiary. Irrevocable trusts, on the contrary, can be created during life or included in a will. In this case, the trust only activates upon the death of the grantor. A revocable living trust may be changed or amended, As a matter of fact, a revocable living trust may be completely revoked. This type of trust governs your assets during your lifetime, as well as states who will receive those assets upon your passing, and allows the assets to be placed into your trust before your death without having to go through the lengthy probate process. However, irrevocable trusts are very difficult to amend and potentially revoke, thus they may not be changed in certain circumstances. 
Why change the terms of a trust?
Changing the terms of a trust can occur for many reasons, for changes in an individual's life should be reflected in legal documentation. An individual's financial status, physical and mental health, as well as family circumstances are constantly changing. Changes in tax laws can make specific provisions unnecessary and therefore should be removed from the trust. Consulting an Estate Planning Attorney prior to making any amendments is encouraged, as the attorney will be able to guide you and provide you with effective support regarding the changes you wish to make to your trust. In rare cases, it may be possible to revoke and amend an irrevocable trust with the proper consent of the grantor and the beneficiaries. 
What are some possible changes that may be amended in a trust?
Some prominent changes that may be amended in a trust include, but are not limited to the following:
Changing the successor trustee or the manner of selecting successor trustees;

Changing distribution and investment requirements

Changing the authority given to trustees and trust protectors

Adding or changing the assets in the trust (properties, bank accounts, etc.)

Dividing a single trust into two or more trusts, or consolidating two or more trusts into a single trust

Terminating the trust and distributing the assets to the beneficiaries.
What are the benefits to amending a trust?
Amending a trust ensures that you will avoid any possible litigation with beneficiaries in the future. This will guarantee that your best interests and wishes are the priority and are effectively addressed, even when your wishes change. Circumstances are always changing, so you should consider reflecting these changes in your legal documents by making amendments with the proper guidance of an Estate Planning Attorney. Amending a trust allows an opportunity to change beneficiaries or include other information that was missing from the first time the trust was completed. Amending a trust is the perfect opportunity to add in or edit anything you wish to change.
For further Estate Planning inquiries please contact the Law Office of Inna Fershteyn at 718-333-2394 to best prepare for your future through will drafting, trusts, power of attorney, health care proxy, and living will documentation.