Caring for a child with Special Needs can be a challenging responsibility. There are many steps that you must take in order to guarantee the well being of your child in the long run. By planning a long-term financial strategy, you can provide for your child and the needs of your family while also addressing your other goals. Attorney Inna Fershteyn provides some insight on a few important aspects: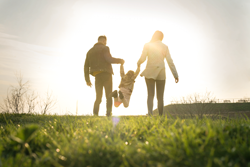 Establish a Trust to Benefit Your Child With Special Needs
While you may think that a trust is only for the wealthy, this is not the case. The financial situation of a family with special needs should be properly addressed so that there is a plan and funds to distribute if any complications in the future arise. To establish a trust, you should seek guidance from an attorney who has experience in working with families with special needs. Seeking an experienced an attorney is crucial in exploring the types of trusts and aspects suitable for your situation.
Name a Trustee
A trustee is a person who will be responsible for managing the Special Needs Trust after your death. A trustee can be a family member, friend, lawyer, or even a bank. The trustee ensures and supervises that the money in your Special Needs Trust is spent and maintained appropriately. Therefore, it is important to name someone who you trust for your financial management and who understands your wishes for your child with special needs.
Appoint a conservator or a guardian
A conservatorship or guardianship is a court proceeding that allows you to legally designate someone to care for a child or an incapacitated person. They typically make financial and health care decisions for your children in a situation that you are unable to do so. If you think that your child will need a guardian or conservator after your death, contact an attorney to identify a conservator or guardian to protect your child.
Write a Will
A Will specifies what will be done with your assets after your death. It is important to specify that your assets are left to the Special Needs Trust, and not to your child. While this may sound strange, this is crucial because without a will, a court judge could name your child as a beneficiary. In doing so, this would show that your child has over $2,000 in assets. This would render your child ineligible for federal benefits such as Medicaid and Supplemental Security Income (SSI). A Will is also where you can specify a guardian and other important aspects of caring for your child if you are not around. Please note that your trustee and guardian do not need to be the same person. Ensure that whoever takes on each of the respective roles is committed to properly do so.
Do you need help planning for your child?
If you are seeking to establish a Special Needs Trust or require some insight on planning for your child with special needs, seek an attorney who has experience in working with families with Special Needs. Contact Attorney Inna Fershteyn today for assistance in planning your Special Needs Trust.
Law Office of Inna Fershteyn and Associates, P.C.
Average rating:
0 reviews