A will is a crucial document that dictates your plans in regards to your medical healthcare and your financial care in terms of your assets once you become incapacitated and are unable to make decisions for yourself. Drafting a will can be complicated and though there are online resources to assist you, estate planning should be done by a professional. Once you have drafted your will, it is important to make sure all assets are addressed, your will meets the updated requirements of the state in which you reside in, and your will is legally binding. A will is not only for property but all your assets can be included in your will. Life is unpredictable, as anything can happen, so it is your duty to ensure your wishes are met and your family is taken care of in the future. An esteemed Estate Planning Attorney can assist you in drafting your Last Will and Testament document and make sure all aspects of your will are executed properly.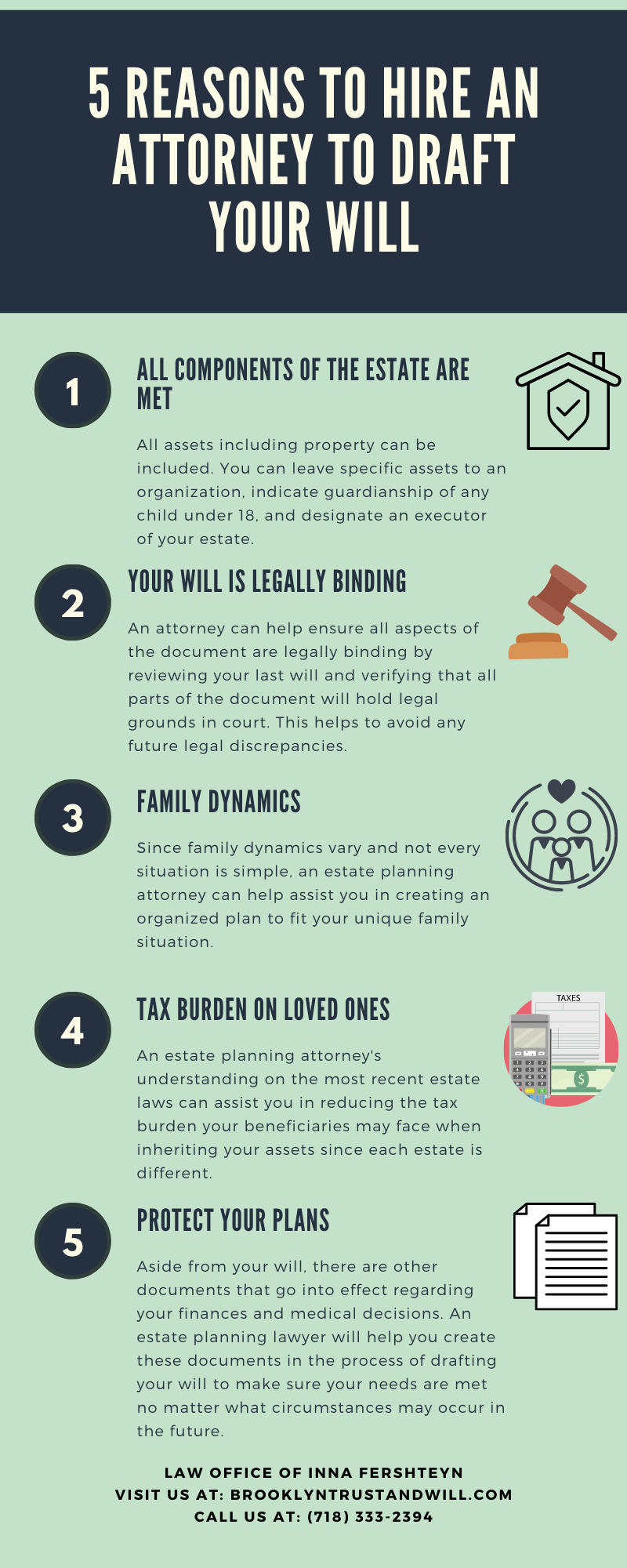 Some Reasons Attorneys Encourage Clients to Hire an Attorney to draft their Wills:
All Components of the Estate Are Met:

When drafting a will most people think that the only asset that could be left in a will is a property designated to their loved ones, also known as the beneficiaries on the will. The reality is that a will can include all assets that you wish to include not just property. In this document, you are able to leave specific assets to an organization, indicate guardianship of any child under the age of 18, and even designate an executor of your estate. Lawyers work to ensure all assets are addressed and disputes are avoided, so when it comes time to probate the Will, which is a court proceeding where the validity of the will is examined, no issues will arise. 

Your Will Is Legally Binding:

Drafting a will by yourself is an option, but an attorney will help ensure all aspects of the document are legally binding. If you do happen to draft the will on your own, an attorney can and should review your last will and verify that all parts of the document will hold legal ground in court. When it comes time to probate your will, which is only when the decedent passes away, disputes could occur, which will hold up the probate process, and as a result, it will take longer to receive the Letters of Administration. These are the documents needed to distribute the decedent's assets to the beneficiaries named in the Last Will. When drafting a will yourself, confirming that your template is current and meets the requirements of the state in which you reside is not guaranteed. An attorney will verify that your will is both up to date and meets your state's requirements, ensuring that this document will be legally binding. All in all, drafting a will on your own is challenging, and could lead to issues in the future, specifically when it comes time to probate the will. While drafting a will is definitely an option, it's best to have an experienced estate planning attorney draft a will for you, to avoid any future legal discrepancies. 

Family Dynamics:

Family dynamics vary and not every situation is simple. Being married multiple times or having children with someone other than your spouse, an estate planning attorney can help assist you in creating an organized plan to fit your unique family situation. Life is not set, so if any changes do occur after your will is drafted and executed, speak with an estate planning attorney who can help you draft a new will. It's important to note that if you're looking to change your will, you cannot make revisions to an existing will, and your only other option would be to draft and execute a new will. Once this is done, you should properly discard the old version of your will, and only the most recent draft of your Last Will and Testament will need to go through the probate process.

Tax Burden on Loved Ones:

Each estate is different and some may be larger than others. This can affect the tax implications on the beneficiaries of your estate. An estate planning attorney possesses knowledge of the most recent estate law in your area and can help assist you in reducing the tax burden that your beneficiaries may face when inheriting your assets. 

Protect your Plans:

Once you pass away, your will goes into effect but there are other documents that go into effect before that time comes. There are Financial and Healthcare Power of Attorneys that go along with a will and ensure you are taken care of before you pass. A financial power of attorney is a document that assists you with allowing a third party to take over your finances when you become unable to do so yourself. Additionally, there is a Healthcare power of attorney that allows for another individual to make medical decisions for you in the case that you become incapacitated. In order to ensure your needs are met in the future, the drafting of these two documents is necessary. An estate planning attorney will help you create these documents in the process of drafting your will to make sure your needs are met no matter what circumstances may occur in the future. 
Why An Attorney Should Draft Your Will:
Drafting a will is complex and tedious, and can get complicated even with a plethora of research. A document that is legally binding and portrays your interests of what you would like to happen in the case that you pass should not be done without the guidance of a professional. An experienced estate planning attorney is knowledgeable and can ensure your Last Will and Testament and all documents that accompany your will are drafted correctly. You and your loved ones will be able to have peace of mind that your estate planning documents are properly drafted and executed. Creating a will yourself entails a lot of research, proper templates, time, and legal advice, which only an estate planning attorney can give you. When an attorney drafts your will you will not only save time, but you will be seeking the help of an individual that holds all the answers to the complex process of drafting a will, along with any other estate planning documents that you would like to draft.
The Price of Drafting a Will: 
The Law Office of Inna Fershteyn provides an affordable Will package that consists of all of the documents needed to properly plan your future and meet your interests. This Will package includes a comprehensive estate planning session, drafting and executing of the will, living will creation, health care proxy documentation, and power of attorney documentation with the presence of two witnesses and an attorney. 
For further Estate Planning information please contact the Law Office of Inna Fershteyn at 718-333-2394 to best prepare for your future through will drafting, power of attorney, health care proxy, and living will documentation.