What is Medicaid?
Medicaid is a federal and state health coverage program that provides health care to people who are unable to pay for it themselves. It is offered free of charge to those who meet the strict eligibility requirements.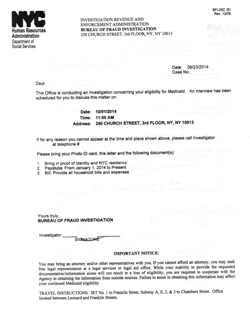 The Medicaid Fraud Investigation Process
Usually, Medicaid Fraud investigations occur when the investigator suspects that you have been lying or have failed to disclose important information, whether you are a recipient (individual or families) of Medicaid or a provider (doctors, dentists, pharmacies, clinics, hospitals, etc). Medicaid Fraud Investigations often begin with a letter from a Medicaid investigator. Depending on the nature of the case, the investigator may involve one or more of the following government agencies: NYC Human Resources Administration, Office of Medicaid Provider Fraud and Abuse Investigation, Bureau of Fraud Investigation, New York State Attorney General's Office, Medicaid Fraud Control Unit, or the Federal Bureau of Investigation.
This letter may ask to provide some proof of certain documentation and to meet with the Investigator for an interview.
 What happens next is extremely important. You will need to take the proper course of action to protect yourself from any harsh consequences. Do not, however, ignore this letter of investigation or the interview. By the time you have received the letter of investigation, the investigator has likely gathered evidence against you. Anything you say may be used against you and could result in criminal charges being filed or other forms of harsh consequences.
Consult with an experienced attorney to understand your options and prepare your defense. Do not try to attend the interview by yourself or settle the Investigation case on your own. If you self-incriminate yourself, you may face potentially very serious civil and criminal consequences. Your attorney can represent you in an effort to avoid or reduce the possible charges and can also negotiate a settlement that will save you time, money, and consequences.
Possible Consequences of Medicaid Fraud
If you have committed Medicaid fraud or fallen victim to it, you could not only lose your eligibility and benefits but could face significant jail time. You could also face fines, property liens, jeopardizing your professional licenses, probation, restitution which is a reimbursement for any funds of a patient or insurance company, and more.  Jail sentences can range from 5 years to life, the latter being more common for those in the healthcare system whose actions contributed to a patient's injury or death.
How to Protect Yourself
Safeguard your Medicaid Card and if ever lost or stolen, report it as soon as possible. Additionally, do not allow your friends or family to use your card and make sure to never give out your card number to strangers. You should also be alert for potential scams. For example, if you are offered free services, do not accept them as this may be an attempt to gather Medicaid numbers for fraudulent purposes. It is also advisable to thoroughly review your statements, as well as your credit reports, looking specifically for anything unfamiliar to you such as doctor's appointments you did not attend or medical services you did not receive.
To protect yourself during this process, do not talk to the investigator alone. Doing so could result in you incriminating yourself, which can best be avoided by contacting an experienced attorney. It is important to know your rights during this process. You have the right to remain silent and cannot be punished by losing eligibility or benefits for not answering an investigator's questions. It is also your right to be able to bring an attorney to meetings with the investigator and to consult with your attorney before handing over any documents.
If you are being investigated for Medicaid Fraud in New York, please contact NY Top Medicaid Fraud Attorney Inna Fershteyn at (718) 333-2394 or visit our website to schedule a consultation.