Time gets us all, and before you know it you've celebrated your 65th birthday and thoughts of how you will be spending your retirement days start to cloud your mind. While it's true that there are some important decisions that need to be made regarding both your health and your living circumstances, below we've broken down some key things you should become familiar with so that you can make these decisions as informed and as stress-free as possible.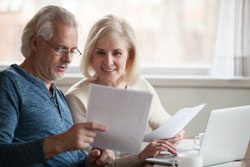 Get Familiar With Medicare
Once you turn 65, you are now eligible for Medicare. The enrollment period begins 3 months before your 65 birthday and ends 3 months afterwards, so it is important to not miss that time frame. Missing that window may result in you paying higher premiums than necessary. It is good to familiarize yourself with the different types of medicare so that you can decide on the plan that best suits your needs. There is Medicare part A and B as well as the Medicare Advantage Plan. Part A covers hospital care and is mostly free. Part B covers doctor visits and diagnostics, but it charges a premium. This premium may end up costing you more than a visit to a doctor under private insurance, so make sure you are aware of the costs. Since Medicare A and B do not offer full coverage, the Medicare Advantage Plan is often used to help fill the gap. Keep in mind that if you are not receiving social security, your enrollment into a plan will not happen automatically. For more information on Medicare, visit medicare.gov.
Wait To Sign Up For Social Security Benefits
Social security benefits officially begin once you turn 62, however that does not mean that you have to immediately sign up. In fact, it is best to wait as long as you can to receive these benefits until you reach your full retirement age, which, depending on your birth year can be 66, 67 or 66 and a certain number of months.  If you file for social security before you reach that age, you will reduce the amount of benefits you can receive anywhere from 6.67% to 13.34% yearly. 
Consider Long-Term Care Insurance
Unfortunately, Medicare does not cover assisted-living expenses. It is up to you to make sure that you are covered in the case that you may need assistance in the future. Since nursing homes are often very costly, ranging anywhere from $4,000 to $8,000 a month, it is best to obtain long-term care insurance to help cover the costs. It can be costly as well as a risk since you may not even need such an insurance, but it is best to cover all of your bases since 65 is usually the last year that one can sign up for this type of policy at the lowest rate possible.
Look Over Property Tax Exemptions
Once you turn 65, you can now apply for the over-65 tax exemption on property. This can result in either a reduction in the amount of taxes you have to pay on property or can freeze the the bill altogether. You also have the option to defer your annual property tax bill. This results in the county putting a lien on your property which amounts to the value of the tax. This amount comes from the value of when the house is sold. To find out how much you can reduce your property bill by, contact your county's appraisal district.
Review Legal Documents
One more thing that you want to make sure that you do once you turn 65, or really at any age over 18, is consistently review your estate plan. If you do not have an estate plan, now is the time to begin formulating one. You want to make sure you have documents that coincide with your wishes about how you want your assets to be distributed after your passing. Alongside the delagation of your assets, you also want to make sure you have legal documents that state what will happen in the case that you are incapacitated, such as a health care proxy. We highly recommend that you meet with your attorney on a yearly basis to make sure that your plan is up to date and coincides with your state laws.