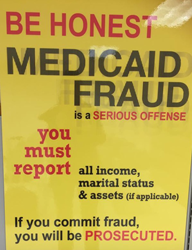 Being targeted for a Medicaid fraud investigation is never fun… we know.
However, they can be initiated for a number of reasons. The Human Resources (HRA) have an array of investigators who look over many databases that contain New York State records. Investigators can obtain documents such as your DMV records, your NY state real estate records, NY licensing records, bank account information, business records, and payroll records.
If you are targeted for Medicaid fraud you most likely had conflicting information on your Medicaid applications that are different when cross referenced with other information pertaining to you. It is also possible that a whistleblower reported fraud.
If you have any further questions concerning Medicaid fraud, please don't hesitate, contact the Law Office of Inna Fershteyn at 718 – 333 – 2394. We are conveniently located on Voorhies Ave right next to the B and Q trainstation. For more information visit our website, www.BrooklynTrustandWill.com
——————————————————————————–
Languages: English, Russian speaking attorney
Areas of Practice: Estate Planning, Asset Protection, Medicaid Fraud Investigations, Medicaid Planning, Wills, Trusts, Elder Law, Will Probate
——————————————————————————–
Follow, Like, Share, Comment:
• Subscribe: http://www.youtube.com/subscription_center?add_user=innafershteyn
• Blog: http://www.advanced-legal.blogspot.com
• Facebook: https://www.facebook.com/advancedlegal
• Google+: https://plus.google.com/u/0/114170582905604545063?pageId=107007368744213577945
• Other Google+: https://plus.google.com/u/0/116806810708093865618?pageId=107007368744213577945
• Avvo: http://www.avvo.com/attorneys/11235-ny-inna-fershteyn-957925.html
Law Office of Inna Fershteyn and Associates, P.C.
1517 Voorhies Avenue, 4 FL
(718) 333-2394