While an engagement is filled with the joy of new beginnings, the excitement of wedding plans and dreams of exotic honeymoons, it's crucial to consider the importance of protecting your assets. While it may not seem like the most opportune time to discuss the topic, asset protection is an important and critical thing to consider in order to secure your finances and provide an easy transition during this exciting milestone. Here are five asset protection tips: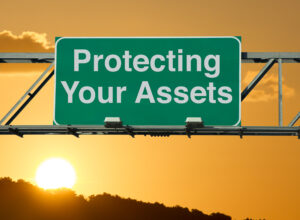 Prenuptial Agreement: A prenuptial agreement, or more commonly referred to as a prenup, is a legally binding document that entails how assets will be allocated in the event of a divorce, separation or death. This agreement allows partners to separate their assets and have individual control over certain items. This is definitely something to consider before marriage and can be beneficial to both you and your partner. Having a prenuptial agreement will alleviate the stress of dividing your finances accordingly in the event of a divorce since it has been previously agreed to.
Separate and Joint Accounts: As a couple, it is important to maintain separate bank accounts as well as to keep a joint account for expenses. By keeping separate bank accounts, you can protect your personal assets and ensure financial independence. A joint account can be used to cover shared expenses like rent, bills, and vacations, ensuring transparency. In contrast, separate bank accounts allow for personal financial goals and budgeting personal expenses.
Asset Titling: Before getting married, it is important to discuss asset ownership. Asset titling specifies the names of people who hold the title to these assets. It is a way to prevent individual assets from being considered as joint assets. This process is critical, specifically before marriage, because it determines ownership rights and asset division in the event of divorce or death. By strategically titling your assets, you can reduce the risk of losing your assets.
Insurance Coverage: Insurance is an important part of asset protection and is crucial to estate planning. Engaged couples should reevaluate insurance policies and make sure that they include joint assets and liabilities. Updating or purchasing renters or homeowners insurance and car insurance should also be discussed. Additionally, if you or your partner have substantial assets, it may be beneficial to purchase umbrella insurance, which provides extra protection for your assets beyond your other policies and can protect against expensive claims and lawsuits. It also may be of interest to combine certain insurance policies before marriage including car insurance and health insurance in order to find the least costly option for you and your partner.
Estate Planning: Although it may not be the most romantic topic, it is extremely important to plan your estate as soon as possible so that in cases of emergency or sudden death, your assets can be distributed accordingly. Before marriage, it is crucial to discuss each other's desires when handling assets in the event of sudden death or incapacitation.  Setting up a Trust and giving a loved one Power of attorney are just some of the steps to consider.
As you plan your happily ever after, remember this is a good time to consider the steps needed to ensure your assets are secure in the event of an emergency, untimely death or divorce. Hiring an experienced and knowledgeable asset protection and estate planning attorney can help secure your future. For all of your asset protection needs, please contact the Law Office of Inna Fershsteyn at (718) 333-2394.
Law Office of Inna Fershteyn and Associates, P.C.
Average rating:
0 reviews