What is Estate Planning?
If you live on Long Island, NY estate planning is an important step that people take in order to make sure that they're wishes are granted, and that loved ones are provided for upon their death. Although many people avoid estate planning, or continue to put it off, due to more immediate concerns, death is inevitable, and there is no better time than now to create an estate plan. An experienced estate planning attorney in Nassau or Suffolk County can help make sure that your wishes and desires are outlined in a comprehensive estate plan that is specific to you and your needs. They can also ensure you are minimizing tax burdens and preserving your family's assets!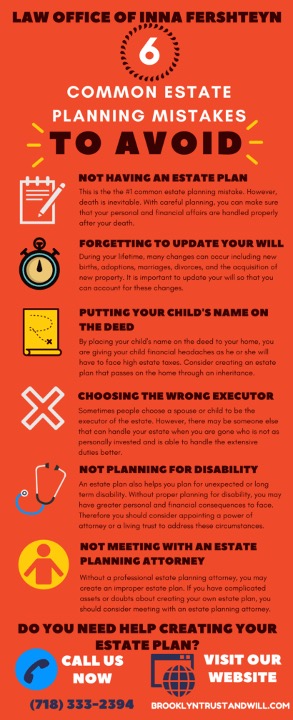 Documents Often Executed In An Estate Plan:
An experienced estate planning attorney can help set up advance directives, and other estate planning documents that are right for you. Some of these documents are:
Last Will and Testament/Revocable Trust

: Most people draft wills which explain how they'd want their assets to be handled at death, which works well for small and modest estates. However, because wills must go through the probate process, which often takes several months to a year to complete, some prefer to use a revocable trust which allows their assets to completely bypass the probate process. An estate planning attorney can help you figure out which of these documents are best for you.

Living Will:

Simply put, a living will help you control your medical care at the end of your life. In addition to providing instructions for your end-of-life care, a living will can outline exactly the medical procedures that you approve of when it comes to trying to preserve your life. With a living will you're able to control what happens to you in the event that you're unable to voice your preferences. 

Healthcare Durable Power of Attorney:

If you ever become severely ill, or are no longer able to make medical decisions for yourself, having a healthcare power of attorney, also known as a health care proxy (HCP) in place will ensure that a trusted individual of your choice will have the ability to make medical decisions on your behalf. That individual is known as an agent. A licensed attorney can also help you properly draft your HCP to ensure a smooth transition if you're no longer able to make medical decisions for yourself.

Durable Power of Attorney:

A general durable power of attorney form gives a wide range of powers to a person (or organization) to act on your behalf. A general power of attorney is a useful tool if you plan to be out of the country and need someone to handle certain matters, or if you are physically or mentally incapable of making decisions for yourself. Some of these powers include handling business transactions, buying insurance, making gifts and the like. Oftentimes, however, a general power of attorney is included in an estate plan to ensure that you have a trusted designee to handle financial matters on your behalf.
Benefits of Having An Estate Plan:
Regardless of your age, or the size of your estate, and the complexity of your Long Island estate, an estate plan can give you some of the following benefits: 
Identify family members or other loved ones that will inherit your assets.

Minimize the burden of having your beneficiaries paying high taxes when inheriting any properties you owned upon your death.

Avoid the time and cost of the probate process, by drafting a living trust

Appointing an agent to make medical decisions on your behalf, if you are unable to do so for yourself in the future.
These are just some of the benefits that you could have when creating an estate plan. Speaking with an estate planning attorney in Long Island can make sure that your financial planning and advance care directives are in place.
Difference Between A Will And A Trust:
A common misconception that many people have is that a Last Will and Testament is enough to pass your estate to heirs. However, just having a will is not enough in most instances, due to the face that probate proceedings, which is the process of validating a will, take at least one year. Until you are issued Letters of Administration from the Surrogate's Court, nobody is able to touch your estate. For these reasons, a will is at times not the best estate planning tool to execute, especially if your estate has significant value, if you have real estate, and or if you have minor children. In order to avoid court proceedings, a trust is often a better option. A trust gives you the ability to pass your estate to your children or other loved ones without going through the lengthy probate process. While a will can allow you to designate beneficiaries as a trust would, a trust allows your loved ones to get instant access to your estate immediately after you pass away.
Hire An Estate Planning Attorney on Long Island, NY:
With over two hundred fifteen 5 Star Reviews we are proud to have been recognized as the best estate planning law firm on Long Island, NY by our Clients. The Law Office of Inna Fershteyn and Associates, P.C. understands that estate planning is personal. Our trust and estate lawyer, Inna Fershteyn, will work diligently to ensure that individual concerns are carefully addressed, and goals are met. With over 22 years of experience and Ms. Fershteyn's extensive knowledge of trust and estate administration, we will work with you to develop a comprehensive estate plan and offer knowledgeable guidance that will give you peace of mind as well as secure your family's future.