Suffolk & Nassau County Estate Planning Needs
What is Elder Law?
Elder Law is an area of the law that helps people who are planning to retire, people with disabilities, people who may need Medicaid services or people who are worried about Nursing Home costs. Although you may think that Elder Law concerns only the elderly, these issues should concern everybody as they get older. Elder Law attorneys in the Nassau and Suffolk County area are specialists in the needs of seniors and elders with regard to estate planning, asset protection, Medicaid planning and family law in the State of New York.
What questions should I be asking when meeting with my attorney?
As our loved ones get older, and become seniors, questions and concerns about assets, estates, finances, health care, and long-term care do arise. Specifically, some of these concerns are:
What will happen to my assets, and what is the best possible way to carry out my estate plan?
Should I prepare a will, a trust or any other estate planning document?
You being concerned with the current long term care plan for yourself or your elders.
How will your long-term care be paid for?
Who will take care of you if you're no longer able to do so?
How can I assure that my wishes will be carried out if I become incapacitated, disabled, or unable to care for yourself?
What long term care options are best for you and unique to your situation?
Elder Law is a complex issue and is an area of law that is always evolving. In order to have these questions answered, you must meet with an experienced Elder Law attorney that will help address all your questions and concerns.
What documents should be executed in my Elder Plan?
Elder Law attorneys can help set up advance directives that are best for you. Some of these documents include a:
Health Care Durable Power Of Attorney: this document will ensure that a trusted individual of your choice will have the ability to make medical decisions on your behalf. If you're currently receiving care, we highly recommend that you check with your doctor to see if they can suggest any criteria when it comes to picking a healthcare power of attorney. A licensed attorney can also help you properly draft your documents to ensure a smooth transition if you're no longer able to make medical decisions for yourself.
Living Will: this document can help you control your medical at the end of your life. In addition to providing instructions for your end-of-life care, a living will outlines exactly the medical procedures that you approve of when it comes to trying to preserve your life. With a living will you're able to control what happens to you in the event that you're unable to voice your preferences.
Will/Revocable Trust: Most people draft wills which explain how they'd want their assets to be handled at death, which works well for small and modest estates. However, because wills must go through the probate process, which often takes several weeks to many months to complete, some prefer to use a revocable trust which allows their assets to completely bypass the process.
What are some benefits of having an Elder Plan?
An experienced Long Island Elder Planning attorney can help make sure you:
Advise your elders about comprehensive Financial Planning in order to avoid paying for a Nursing Home, which can become very costly.
Create a Pooled Income Trust. That way, your elderly can qualify for Medicaid while still having an income.
Prepare an estate plan, including Revocable or Irrevocable Trusts that help protect your assets.
Prepare a Medicaid Home Care Application.
Establish Guardianships of disabled adults.
Why do Long-Term Care Fair Hearings occur?
A Long-Term Care Fair Hearing is when a client would like to successfully reverse the determination to reduce Personal Care Services for an elderly person. Although this is just one instance where this type of hearing is necessary, there are other reasons as to why Long-Term Care Fair Hearings occur. Some additional reasons include:
Your Application for Public Assistance, Medical Assistance, Supplemental Nutrition Assistance Program, Home Energy Assistance Program (HEAP) benefits or Services is denied, and you do not agree with this decision.
You applied for Public Assistance, Medical Assistance, SNAP or Services, and more than 30 days have passed. You have not been told yet if your Application has been approved or denied. For some adults applying for Public Assistance, the decision may take up to 45 days.
You applied for Medical Assistance as a disabled person, and more than 90 days have passed. You have not been told yet if your Application has been approved or denied.
You have been told that, due to your abuse of Medical Assistance, you must get your medical care from one main provider (Recipient Restriction Program). You do not agree with this decision.
You are getting Public Assistance, Medical Assistance, SNAP or Services, and you have been told that your case is being closed. You do not agree with this decision.
Do we represent clients in Long Term Care Fair Hearings?
The Law Office of Inna Fershteyn and Associates are experienced Long Island Elder Care attorneys who do represent elderly clients at Fair Hearing for Managed Long-Term Care Plans like GuildNet, Senior Health Partners, Senior Whole Health, and others to appeal determination to reduce clients Personal Care Services hours. Pursuant to Section 22 of the New York State Social Services Law and Part 358 of Title 18 NYCRR, Ms. Fershteyn represents clients at fair hearings in Long Island court houses such as:
Suffolk County Supreme Court, 253 Griffing Avenue, Riverhead, NY 11901
Nassau County Supreme Court, 100 Supreme Court Drive, Mineola, NY 11501
Hire An Elder Care Attorney on Long Island, NY:
With over 215+ 5 Start Reviews we are proud to have been recognized as the best elder law firm on Long Island, NY by our Clients. The Law Office of Inna Fershteyn and Associates, P.C. understands that estate planning is personal. Our trust and estate lawyer, Inna Fershteyn, will work diligently to ensure that individual concerns are carefully addressed, and goals are met. With our extensive knowledge of trust and estate administration, along with Medicaid Planning, we will work with you to develop a comprehensive estate plan and offer knowledgeable guidance that will give you peace of mind as well as secure your family's future.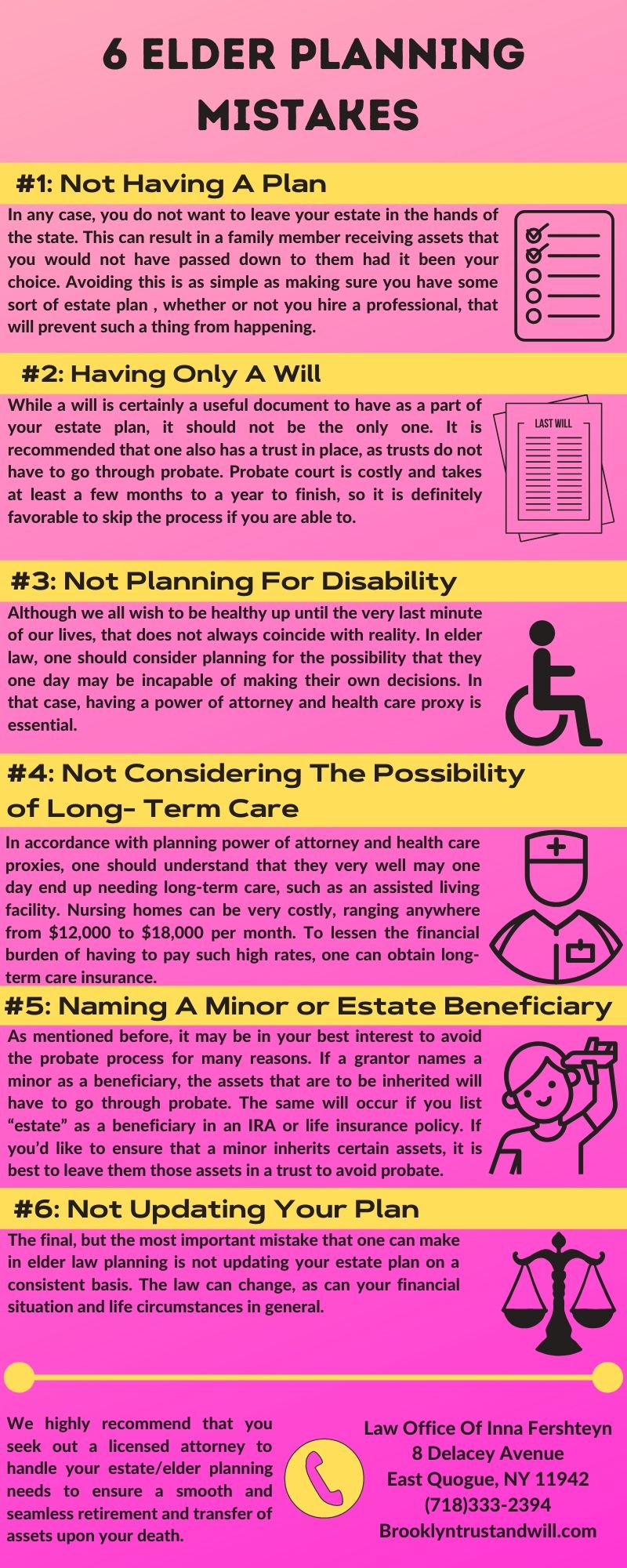 For estate and or elder planning help near you, contact us today! Call (718) 333-2394 to set up a consultation or contact us online.