Living Will/POA package $300
(718) 333-2394
SCHEDULE CONSULTATION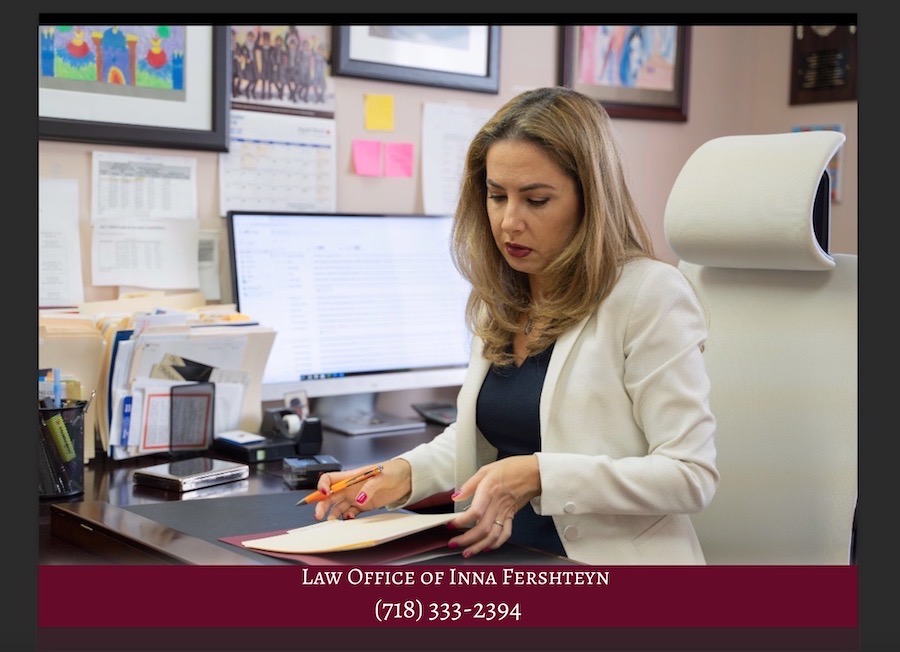 The Law Office of Inna Fershteyn and Associates, P.C. is a leading Brooklyn based elder care attorney & estate planning attorney concentrating in trusts, estates, probate and elder law legal issues for Clients throughout the 5 Boroughs of NYC and the greater New York and New Jersey area.
NOTE: We are offering Immediate Telephone consultation and Flat Fee retainers for help you thought this difficult times. We are open for business working with clients virtually via phone, video calls & safe, no contact notary signings for wills and estate documents. We can complete all of your elder care and estate planning legal documents safely remotely without contact. Contact us here.
Elder Law Attorneys in Brooklyn, NY Serving Sheepshead Bay, Kings County and all of New York City

An experienced, compassionate attorney, Inna Fershteyn is the Principal trust and estate planning lawyer in the Brooklyn elder law firm. Over a period of 22 years in practice, we have established high legal standards which Clients have recognized through our exceptional reviews. When experience counts, call (718) 333-2394. Contact us online today.
Important Legal Notice: Due to the Corona Virus outbreak in Brooklyn and the NY area, all legal documents can now be virtually executed and your signature notarized via video conference with an elder care lawyer. As emergency measures to assist clients with drafting wills, power of attorney, healthcare proxies, pooled income trusts and obtaining home care aid under urgent Medicaid home care application package, we are available from 8 am to 8 pm and can prepare any emergency asset protection and elder care documents within 24 hours. For emergency Elder Law planning and Asset protection please contact us here – You will get Immediate response from Elder Care Lawyer in 1 hour.
Brooklyn's Highest Rated Elder Law Attorney & Estate Planning Lawyer
Over 20 Yrs of Experience.200+ 5-Star Reviews and Counting.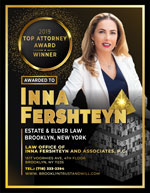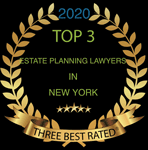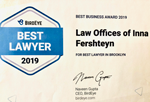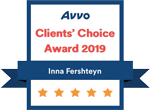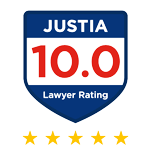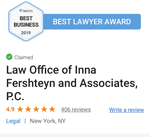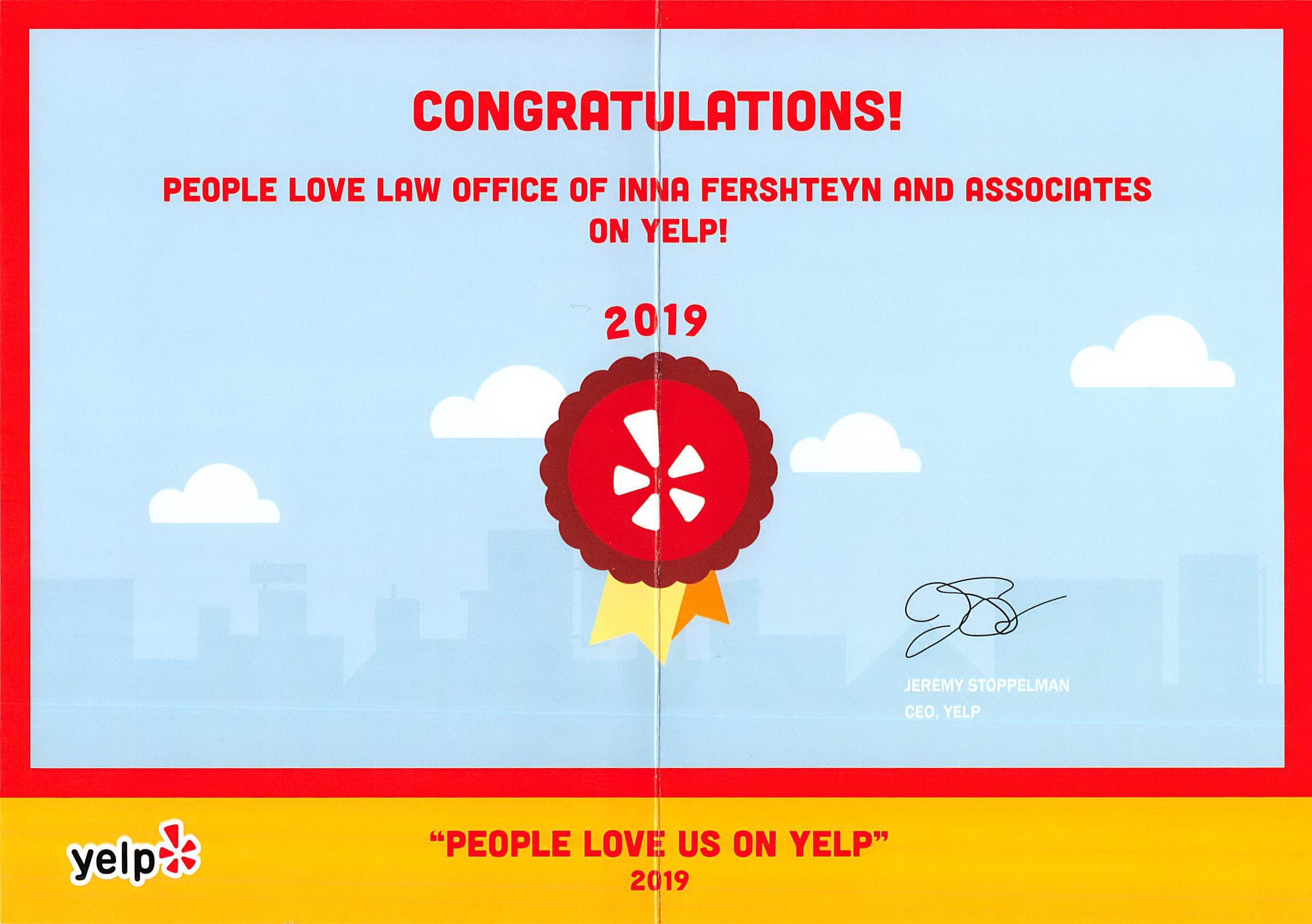 Top Rated Wills, Trusts And Elder Law Planning Attorney in Brooklyn

If you live in Brooklyn, Kings County or the surrounding NY area, drafting a will is an important step for individuals of virtually any age so that your wishes are known and documented. Estate planning on your own terms also means handling your tax planning properly so that you aren't paying more Federal or New York State estate taxes than is necessary. There are many tax planning instruments at your disposal when you plan in advance, using New York estate law to your benefit. Your attorney will help you use the estate planning tools that make sense for your individual situation. As a Brooklyn elder law attorney / estate planning attorney for almost 20 years, Inna Fershteyn will also be able to recommend which trusts can be set up to properly protect assets and improve how you transfer and maintain wealth within your family. Trusts help avoid the time consuming and emotionally difficult process of probate.
We prepare the following types of Trusts: Revocable and Irrevocable Trusts. First-Party Special Needs Trusts (Self-Settled), Third-Party Supplemental Needs Trusts and Pooled Income Trusts.
 We help answer questions like:
1. What is the difference between Revocable and Irrevocable Trusts?
2. What is the difference between a Trust and a Will?
2. What can be transferred into the Trust?
3. How long does the probate take?
4. Can I add my child's name to the deed and bank account to assure that he will receive it after my death?
Brooklyn Elder Law & Long Term Care Planning
What is Elder Law? Elder law is an estate planning process that takes into account your assets, your resources, plans for your retirement as well as your long term care plan and puts aside enough resources for comfortable retirement.  As a Resident living near Brooklyn, this estate planning process helps you protect your assets today as well as maintain control over your future tomorrow.
Why Elder Law estate planning? At any age, life can be unpredictable, whether you are talking about adult children looking after or directly taking care of an elderly parent or Senior citizens themselves, who face countless challenges everyday to ensure they have the income/money, healthcare and everyday needs to live happily. Dealing with and planning individual care and a Senior's estate is a big responsibility. So plan ahead. Contact the Law Office of Inna Fershteyn today! Call (718) 333-2394 or contact us online to schedule your consultation.
Protect What You Have Spent A Lifetime Building: Our Approach

A comprehensive approach to estate and elder law planning. Plan and manage the assets you have spent a lifetime building. Minimize your tax burden. Create a long term care plan. And maintain what your family has built.
With two decades of experience, our Brooklyn elder lawyer and estate attorney understands and is sensitive to your individual circumstances and the unique complexities each family may face. Our Principal elder care attorney handles all of your elder law and estate planning matters, helping you:
Protect your assets from rising nursing home costs
Prepare and strategically utilizing estate planning tools such as revocable and irrevocable trusts and wills
Prepare home care aid Medicaid applications and set up Home Health Care Aid services
Prepare Pooled Income Trust applications if your income is above Medicaid Income Level requirements
Assist with the legal process of Article 81 Adult Guardianship Proceedings
Provide comprehensive medicaid planning to keep assets separate from the State
Answer estate planning questions you may have
Preserve assets and save on Estate Taxes
Set up an Estate Plan and Elder Care plan for your family
Our New York elder law attorneys are uniquely qualified to help you, your family and senior citizens in the NYC area whether you need help setting up a trust or will for yourself or you are dealing with the fine details of health care planning and medicaid for a parent.
We work with your family's Estate Planning needs and pay specific attention to the specialized needs of older adults, providing senior legal assistance on a wide range of needs starting from medical health care planning to estate and trust planning (e.g. pooled income trusts, medicaid applications, and nursing home planning that can give you access to public assistance benefits).
Who We Serve: Our office serves people in all Five Boroughs, the entire Tri-State New York area and out of state clients, including families, senior citizens, spouses, children elder parents, as well as executors and estate administrators in Surrogate's Court proceedings. We assist Clients with asset protection, drafting wills, trust formation, medicaid planning including pooled income trusts and home care aid medicaid applications, medicaid fraud, business continuation planning, probate and administration of estates, nursing home planning, guardianship proceedings, and estate litigation.
Impeccable Reputation. 5 Star Rating and Over 122 Positive Reviews. No other estate law firm has as many positive reviews as we do. We understand that every Client has unique needs, situations and goals, and we create a legal strategy that comprehensively centers on what is important to you.
20 Years Of Local Experience. Our office is closely involved with New York Surrogate's Courts of all five boroughs in assisting our clients with probate, administration and other estate administration matters. No other firm has our level of experience with the Local NYC Court Systems. Many out of state and local attorneys refer to us.

Work With Our Principal. You will work directly with our experienced principal attorney, who will handle your case from A to Z. We are accessible, timely and extremely reliable.
Our Mission:
Every client is unique from his or her interests, problems, and legal needs. We are dedicated to providing each client with the best possible service. We work closely with them to develop a legal strategy that focuses on achieving these goals. We want to help each and every client avoid negative consequences and take the worrying out of unprotected assets, estate planning, wills, trusts, Medicaid fraud, Medicaid planning, and elder law. Let a qualified local elder law firm that concentrates in serving clients throughout New York including New York City (Brooklyn, Manhattan, Bronx, Queens Staten Island and Long Island) and the surrounding Tri-State area guide you through the stressful process and help you reach peace of mind. We will be there to walk you through the process one step at a time. Our office brings a competitive spirit and dedicated attention to each case and provides an individual approach to every client.
Areas Served: New York City, including Brooklyn, Manhattan, Bronx, Queens and Staten Island. As we are licensed in New York and New Jersey, we also serve Clients in the Tri-State area including Long Island and are referred to by out of state Attorneys.
Attorney Inna Fershteyn, Esq. has over 20 years of proven success helping individuals resolve trusts, estates, probate, elder law, Medicaid planning, Medicaid fraud and other legal issues they face. Contact our office today to schedule a consultation. Call (718) 333-2394 or contact us online to schedule your consultation.
Our Brooklyn Office Physical Address: 1517 Voorhies Ave 4th Floor, Brooklyn, NY 11235
Geo Coordinates of Sheepshead Bay Office: 40°35'10.6″N+73°57'11.6″W
Legal Category: Elder Law Attorney in Brooklyn, Estate Planing Attorney in Brooklyn
Kings County in Brooklyn is a borough of New York City that is located in the State of New York. Kings County is the most populous county in New York and it is a second most populous County in the entire USA.
We are listed among "The Best 10 Lawyers near Sheepshead Bay, Brooklyn, NY" on Yelp
Recognized as a top rated Brooklyn wills and trusts attorney on Yelp